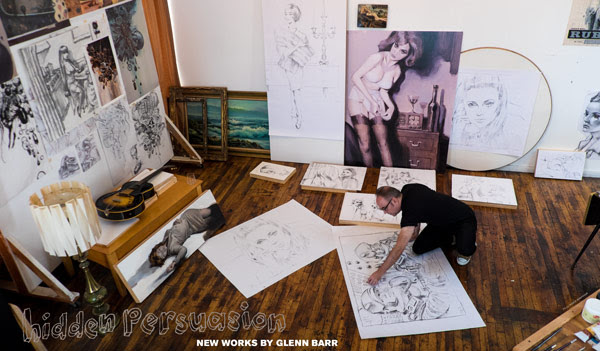 Inner State Gallery Presents Glenn Barr's Hidden Persuasion November 20th
Prolific Detroit Artist Returns Home For His Latest Exhibition
Join Us
Tonight
From
7-10pm
Inner State Gallery
1410 Gratiot Avenue, Detroit, Mi 48207
Directions
/
RSVP
Opening Friday November 20th, Inner State Gallery is proud to present Glenn Barr's
Hidden Persuasion
. With an entirely new body of work, Detroiters are invited into the mind of a true master of the new contemporary art movement. In this collection Barr explores a vast array of characters and situations, immersing viewers into his complex visual storylines spanning decades of cinematic folklore.



"My new work in
Hidden Persuasion
is a tiny bit of a departure for me. In my past work, surreal manifestations inspired by the unconscious mind came to life. The source for this current body of work is inspired by subject matter taken from films and television. I transform these characters turning them into archetypes and visually complex icons," Glenn Barr said discussing his upcoming solo exhibition.
After wildly successful shows at Los Angeles' trendsetting Merry Karnowsky Gallery and New York City's playful Cotton Candy Machine, Barr returns to Detroit's Inner State Gallery with his most refined and complete body of work to date, showcasing his unparalleled painting techniques to elicit emotion and draw viewers into his vast visual dialog.
"Previous exhibitions always had a few of these images, but this time I really went for it. Not to worry, you'll still find an alluring dark undercurrent in my new work that will take you into this parallel world. Also, in following with the theme I've created some installations. One in particular is an interactive 'set' which I hope everyone will take part in," Barr added from his studio space in Detroit's historic Corktown neighborhood.
Inner State Gallery
1410 Gratiot Ave