Wild At Heart
It amazes me that
everyone is upset that S&P for downgrading the US from AAA to AA+
which really doesn't seem such a bad thing when one wonders what it really means. Today a rash of selling by speculators who should mostly be shot dropped the Dow quite a few points. Most advisors tell you to stay the course but these idiots panic and sell everything including the kitchen sink. Just like those guys that cause gas prices to rise due to forcing oil prices over $100 a barrel for no good reason, these guys just cause everyone to panic and cause as much devastation as the actual debt crisis itself. What
I question is the validity of any rating because S&P, along with the other two, also gave AAA ratings to all those junk bonds in the early 2000's
that turned out to be crap and spearheaded what became the financial crisis in the first place. If those bonds had been rated properly, we wouldn't have to worry about most of what had gone on in the past three years. Where were all these people blaming S&P back then?
I won't stay on that anymore for now and just want to recommend a few concerts for the coming week:
Wednesday (8/10)
– blues great Taj Mahal @ the Ark , "Fucking Awesome Fest" feat Deastro, Fur and the Handgrenades @ Magic Stick
Thursday (8/11)
– "Fucking Awesome Fest" feat Swellers and Flatfoot56 @ Magic Stick/Majestic, Chris Isaak @ Pine Knob
Friday (8/12)
– "Fucking Awesome Fest" feat Sugarcoats and Amy Gore @ Magic Stick/Majestic, "Identity" feat Crystal Method and Datsik @ Pine Knob, Kid Rock and Sammy Hagar @ Comerica Park, Los Lobos and Los Lonely Boys @ Meadowbrook Theatre, Ted Nugent @ Lucas County Fairgrounds
Saturday
(8/13)
- Kid Rock and Sammy Hagar @ Comerica Park (2nd show)
Sunday (8/14)
– Michael W Smith and Third Day @ Pine Knob
Monday (8/15)
– John Lee Hooker Jr @ the Ark
I also went to a concert this weekend and some nice music starting with a local NY band
Evil Things
which played a rock inspired Americana mix.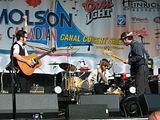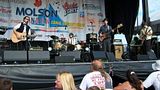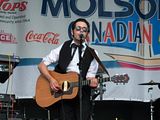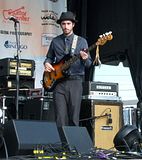 Next was singer
Jamie Moses
who is supposed to be a finalist on the new X Factor show. Wasn't sure if that she was an actual finalist and someone accidentally spilled the beans or if she just made the show. Either way, she has a nice pop voice though could use some training on working the stage. And smile more dammit!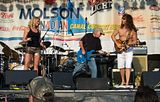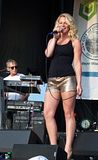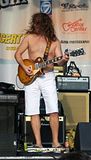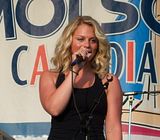 Lastly, the
B-52's
hit the stage. At this point I met up with an old college friend and unfortunately her friends who wanted to talk by the beer truck instead of being near the stage where I could get some good close up pics. Still had a good time but these are the best shots I could get due to darkness and distance. One is kind of blurry but I still like it.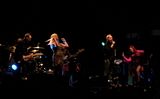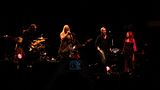 Hope you enjoyed this pics and remember, I have Manchester Orchestra, Bush and Puddle Of Mudd still coming.