Wild At Heart
It is always fun going to Toronto and this weekend was no exception. I decided to head up for
Fan Expo 2011
. I would have promoted this earlier but for the second time they denied me media access so I just decided to go for fun and write about it afterwards. The last time I went was in 2006 to see William Shatner and Leonard Nimoy, the only 2 cast members of the original series I had yet to meet. I enjoyed meeting them but the time constraints didn't really allow me see too much of the rest of the convention. I did hook up with The Pillow Fight League which I interviewed, and was a guest ref during their Super Bowl week appearance in Windsor, at a later date as well as having an interesting, though kind of wacky, conversation with Rowdy Roddy Piper upon leaving the convention.
After missing a few years, I made it back on the promise of three celebrities starting with
Eliza Dushku
(Faith on "Buffy The Vampire Slayer" as well as starring on "Dollhouse" and "Tru Calling"). I have been a huge fan of Buffy ever since the librarian (my old friend Becky) at the Toledo Library recommended it to me and got me caught up by providing me with tapes of the past seasons. This is also the only TV series that I own on DVD in its entirety. My goal is to see all the Buffy cast eventually though I would be content just for Alyson Hannigan so I can meet my top three babes off the show. I had met Amber Benson back in 2006 at another Toronto convention (of which she is one of my first celebrity interviews). Despite looking incredibly hot, Eliza is
currently looking forward to working behind the scenes on a biopic of controversial American photographer Robert Mapplethorpe
.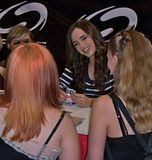 My number two reason for going to the Fan Expo was to meet acclaimed actor
Martin Landau
("Space: 1999" and "Mission: Impossible" TV series as well as an Academy Award nomination for "Tucker: A Man And His Dream" and a win for "Ed Wood"). I personally am a huge fan of "Ed Wood" and esp enjoyed the scene where he wrestles with the artificial octopus, a scene martin remembers fondly also enjoying working with Burton on the picture. He just
currently finished his scenes for the upcoming Burton remake of "Frankenweenie"
and we can see him in the new Mitch Albom adapted movie "Have A Little Faith" (which he filmed with Laurence Fishburne) in which he plays the role of Rabbi Albert Lewis. Faith should be out later this year so keep an eye out for your local listings.
My number three ended up sick and left the convention early so this is the third time I have missed out on meeting Elvira (the last time she canceled with Motorcity Comic Con) so I will keep my fingers crossed that the opportunity to meet her will happen. To make up for this, they did have a special walk in guest come in.
Guillermo Del Toro
(director of "Pan's Labyrinth" and the Hellboy movies) is
currently filming his newest movie ("Pacific Rim")
in Toronto and they got him to come in for an hour of signing. I didn't get his autograph (the line was cut when I was 8 people away) but I did get to say hi and shake his hand so that was definitely cool.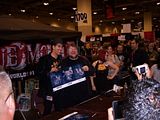 They had a bunch of other great guests that I wanted to meet including John Astin (original "Addams Family"),
Lance Henrickson
("Aliens", "Near Dark"),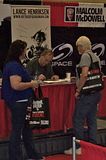 Robert Englund
(Freddy Kruger),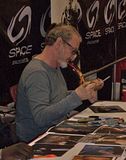 Malcolm McDowell
("A Clockwork Orange"), Katee Sackhoff ("Battlestar Galactica") and others.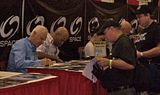 I got a picture of
Trish Status
(I was cut from her autograph line with no one else in front of me – wasn't my day for lines) who was promoting her newest picture,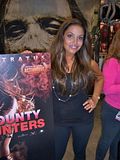 as well as shots of me with
Anthony Daniels
(C-3PO)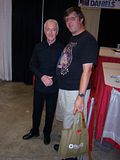 and my man
Lloyd Kaufman
(who I interviewed at the Michigan premiere of "Poultrygeist" at the Burton Theatre), and this time
I got to meet his wife who seems remarkably down to Earth
. If Lloyd wasn't making movies, I swear he would be a con man. Besides his movie line with Troma, he puts out a nice intro for would be a movie maker (the latest is "Sell Your Own Damn Movie") which puts out a nice guide for getting your movies made and distributed. Great for all you beginner filmmakers in the Detroit area!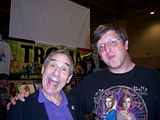 Besides actors, they get some great comic talent. I hooked up briefly with comics legend
Joe Kubert
(most famous for his work Sgt Rock, Hawkman and Tarzan, IMHO, for DC) and started his legendary school of artists of which one of my buddies graduated from.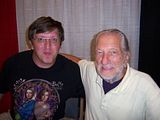 I also met the quirky
Jill Thompson
whose work really came to life after her work with Neil Gaiman on the legendary "Sandman" series. She is quite fun to talk to as a brief aside turned into a story of Jill and Neil on the Scottish countryside getting stoned on some mushrooms they found growing on a mountainside. She is a natural storyteller in her own right and has a beautiful artistic style.
The only thing about the autograph section of the convention, besides the cost of autographs of the big names (between $20 up to $80 for William Shatner which means those of us on limited budgets need to make hard decisions on who to get autographs by), is the way it is set up. They don't like people stopping to gawk and I can understand that to keep isles clear, but I was trying to see how much they were charging so I could manage my $100. I was getting tired of being yelled at when I am trying to just get info. I know the staff is overworked with a lot of people stopping so here is a suggestion. The guests probably set their prices for autographs upon arriving, so
the Expo needs to get someone to collect that info and make sure it gets posted on a wall near the area where people can go and get the information easily
without getting yelled at. Some smaller names were giving free autographs as well as the comic book artists. I remember fondly the days when every guest at a convention didn't charge (I Con '91 for example) and don't get Lloyd Kaufman started on that subject because it is a sore point for him that these stars that are set for life charge fans a fortune to get a signature or photo when they don't need it. Of course, try to get away from his table without buying anything. I dare you.
Besides the guest stars, there are a lot of cool things going around to see. Warner Brothers brought in a
Abin Sur
life-size model from the recent Green lantern movie,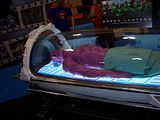 a picture booth to get your picture taken with your favorite movie cast (I picked Big Bang Theory) and various merch and video games. DC gave away a ton of free comics and promos. A lot of video games companies were there promoting new games as well as Penguin Books, horror magazine Rue Morgue, etc. That doesn't even count the many artist with their displays or vendors with a mix of old and new comics and toys.
Marvel had a booth where you could get pictures with Thor's Hammer or
Cap's shield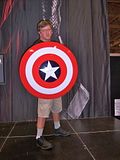 while the movie
"Reel Steel"
(filmed in Michigan) had some of the robots from the movie on display.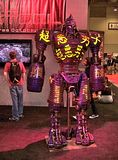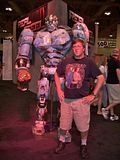 Of course the best thing about a convention like this is seeing all the costumes, mostly handmade, and here is some of my favorite like Storm, the Green Lantern Klingon, Rorschach (from "Watchmen") as well as many others (I will post those Tuesday).
So all in all, it is a great time and for those of you who always wanted to go to San Diego but can't make it. The Fan Expo gets some great talent and has a lot of stuff going on for people with every taste. They have wonderful fan contests and some great floor space. They could use a bit of help with aspects of organizing, such as a price list for autographs, but
overall they do a good job in creating a fun and safe convention experience
. Hopefully next year they will approve my credentials so I can get some interviews of the guests.
With that done, here are some upcoming concerts for the week:
Tuesday (8/30)
– Jack's Mannequin opens for Guster @ Fillmore
Wednesday (8/31)
– Hot Club Of Detroit @ Dirty Dog Jazz Café, Verve Pipe @ Detroit Zoo
Thursday (9/01)
– Spyro Gyra opens for Fourplay @ Motorcity Casino
Friday (9/02)
– Arts Beats and Eats (with Panic At The Disco!, Jessica Hernandez and Candy Band) @ Downtown Royal Oak
Saturday (9/03)
- Arts Beats and Eats (with Brett Michaels, Saving Abel, Muggs, Laith Al-Saadi Lou Gramm, Howling Diablos and Stewart Francke) @ Downtown Royal Oak, Ted Nugent @ Pine Knob, Xtreme Music (with Gretchen Wilson) @ Pontiac Silverdome, Detroit Jazz Fest (with Kimmie Horne and David Holland Octet) @ Hart Plaza
Sunday (9/04)
- Arts Beats and Eats (with Vince Gill, Starship, Amy Gore, Twistin Tarantulas, Orbitsons and Dutch Pink) @ Downtown Royal Oak, Detroit Jazz Fest (with Regina Carter's Reverse Thread, Johnnie Bassett and Hot Club Of Detroit) @ Hart Plaza
Monday (9/05)
- Arts Beats and Eats (with Psychedelic Furs, Tom Tom Club, Jill Jack, Duende, Misty Lyn) @ Downtown Royal Oak, Detroit Jazz Fest (with Oblivion Project) @ Hart Plaza
I hate to say it but I usually have seen more of the artists appearing at Jazzfest but I have not seen a lot of the but names this year but people like Kevin Eubanks, Jeff "Train" Watts and Sun Ra Arkestra make me wish I was back in Detroit for some wonderful Jazz Music.
Have a great weekend and
enjoy the wonderful music that will be at the two big festivals in Detroit
. If last year is any indication,
please be careful of parking in Royal Oak
. Last year they gave out a couple hundred thousand dollars in parking tickets and I hate to have anyone be charged outrageous fines for parking illegally. Also look out because some signs were pulled down last year and they are not forgiving if you park in on eof those areas. Go to the website and look for parking info.