We had some interesting weather here over the weekend which caused me to rework my plans.
One item that got added to my itinerary was checking out the area
roller derby
team in a charity event double-headers as The B-Sides beat the Word from Worchester, MA and the Roc Stars lost a hard fought match to Tri-City Thunder from Kitchner, ON.
The last match saw the Thunder get a 51-8 lead which the Stars managed to erode and took a 87-81 lead off a 29 point jam.
However, the Thunder hung in and managed a 22 point jam to end the match.
I miss hanging out with Miss Canada and Crash Baby back in Detroit and while there have been a lot of roster changes (and what seems to be a whole extra team), don't forget to check out the local girls in Detroit.
Make sure to check them out at
http://www.detroitrollerderby.com/schedule.html
as it seems
they have a match coming up on March 3
rd
.
If you happen to visit Rochester, you can check out their schedule at http://www.rocderby.com/.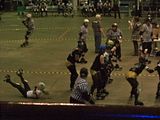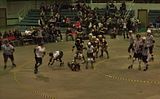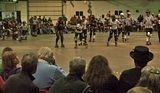 On a more somber music note, I know a lot of people are talking about Whitney but I'd like to bring it back to Detroit with the
passing of bassist Michael David
.
After dropping out of the fine arts program at

Wayne State University

, Davis became the bassist for

Detroit

's radical

proto-punk

band the MC5 in 1964, replacing original bassist Pat Burrows.

After the band broke up in the 70's, he did get back into art doing abstracts thanks to a stint in prison.

In recent years, he had done a variety of design work for MC5 merch and skateboards, as well as having his painting 'White Panther/Big World' appear on the Cleopatra Records release "MC5: The Very Best of MC5". I saw him with DKT-MC5 with a kick-ass show and here is a video of one of their Europe shows.
Going to end this week once again with a list of upcoming shows I would recommend:
Tuesday (2/21)
- Polka Floyd @ Small's
Wednesday (2/22)
– Taddy Porter @ Pike Room,
Wynton Marsalis
w/Lincoln Center Orchestra @ Hill Auditorium (Ann Arbor)
Thursday (2/23)
– Silverstein opens for August Burns Red @ St Andrews Hall
Friday (2/24)
– Anvil @ Token Lounge, Jane's Addiction @ Fillmore, Peter Frampton @ Caesar's Windsor Casino
Enjoy and have a good week.