Wild
Bill Ketelhut
provides the "blog" to this anti-blog
Wild At Heart
Had a wonderful drive up despite hitting a ton of traffic on the Gardner Expressway. On Monday I'll talk about the great time I had at the TIFF, the Ultimate Dinosaurs at the ROM and Dead Can Dance. BTW, the TIFF is having an exhibit of the make-up FX work of Gordon Smith who will be at the TIFF answering questions tonight from 5PM-9PM and you can see Wolverine's claws, Mystique's skin and a lot more cool stuff.
Toronto Fan Expo has been great so far. Despite picking up some Dr Who and Walking Dead giveaways for the guys and gals at work (yep brown-nosing), I checked out the "Frankenweenie" display which had some awesome sets like the one below from the upcoming film. Check out the cool detail. Whatever Burton's script quality has fallen off, his design work and sets are still among the best.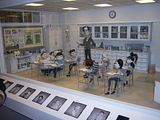 I met my second favorite comic book artist Neal Adams who is a wonderful man and very personable. I had him sign some Deadman covers of "Strange Adventures" but a lot of people were getting him to do sketches of their favorite characters.
As always there are a lot of people dressed in their favorite costumes. I think Supergirl here is HOT and I like the retro Wonder Woman. No idea who the guy is supposed to be!
Marvel's Stan Lee was everywhere today and here he is blowing out the candles on a Spider-man cake who recently turned 50 (Spider-man that is, not Stan). He admitted to having forgotten his anniversary but was nice enough to address the crowd and sign autographs. The cake was pretty good also.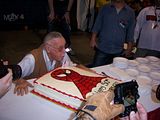 Lego had a bunch of displays around including life size Batman, Gandalf, Boba Fett and other items on display.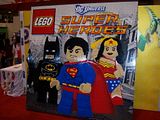 Besides comic dealers, movie studios and everything from Dr Pepper to the Suicide Girls on hand, it was also a nice time to catch up on the latest video games like Halo 4 and the new Avengers game.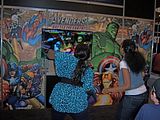 They also have the Dr Who Society and groups dedicated to Steampunk and the Ghostbusters. And never forget the Stormtroopers who have a booth where kids can shoot darts at them and win prizes.
There is a lot more coming with the big name guests starting to arrive like Christopher Lloyd and John Carpenter. Keep tune for more updates and feel free to come out and join me.