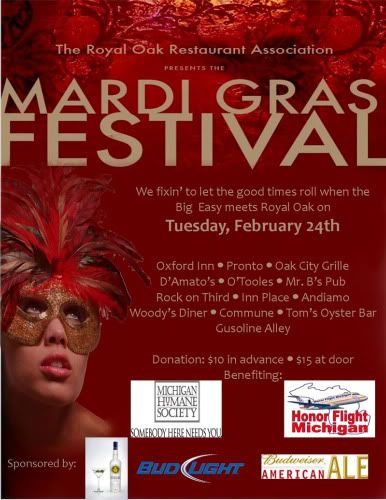 The Royal Oak Restaurant Association brings Bourbon Street to you in celebrating their 5th Annual Mardi Gras Pub Crawl.
Join them on Fat Tuesday, February 24th and experience this adventure. Enjoy a vibrant evening of jazz, blues, festive menus and jest while supporting two well deserving charities, the Michigan Humane Society and Honor Flight Michigan.
The magic begins at Woody's Diner at 6:30pm located at 208 W. Fifth Avenue with a live broadcast featuring WRIF radio. Earn your beads while traveling the city's 13 "most unique" venue and whether you are adventurous and dare to sip on a Voodoo mixer featuring Zodiac Vodka or enjoy a frothy Bud Light or Budweiser American Ale, this night is sure to be an entertaining celebration of Mardi Gras.
100% of the ticket proceeds benefit the Michigan Human Society and Honor Flight Michigan
"MCB IS DETROIT"
Check out more MCB-VIDEOs here