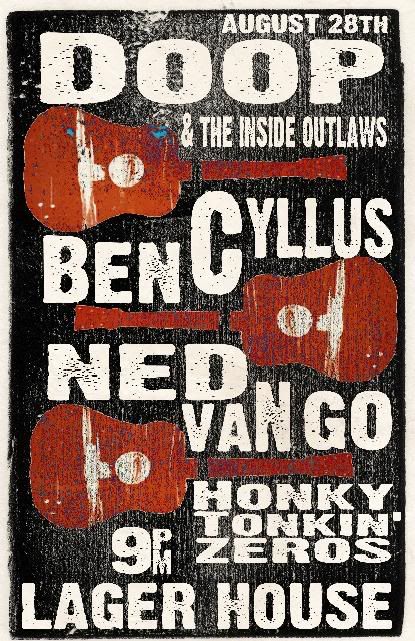 Join Doop and the Inside Outlaws on Friday, August 28th at the Lager House - along with some of Nashville's most talented singer/songwriters!
Show begins at 9:30p, and 21+ are welcome.
"Everett Belcher", the follow-up to Doop and the Inside Outlaws' 2008 release "Blood River", is their second collaboration with legendary Detroit producer Jim Diamond (White Stripes), & was recorded with the help of a variety of Detroit's hardest working musicians including Pete Ballard, Bobby Emmett, Dave Shettler, Chris Codish, Eddie Baranek, Matt Dmits, Whitey Morgan and Ty Stone.
Nashville southern roots-rockers Ned Van Go hail themselves as 'a ragged crew made up of small town boys who are influenced by beer, desperation, good love, bad love and down home rock and roll'. Their latest record "Marry A Waitress" has been played by independent radio stations from coast to coast and all over the world-18 different countries, 19 stations alone in Australia, 6 in the Netherlands. Their music stands out because it can strike you as heartfelt, mean, raunchy and lovable all at once, and that's just plain hard to pull off.
When you listen to the music of Nashville singer/songwriter Ben Cyllus you can hear the influences of the geographic trail he has left behind - the organic surroundings of Michigan's Upper Peninsula, where he was raised, the spirit of Texas where he played in a series of bands with his brothers, and the straight-forward honesty of the city of Detroit where he lived for ten years, and where his full-length debut "Cinnamon Matinee" was recorded at White Room Studios.
Rockabilly group The Honky Tonk Zeros come down from Flint to open the show.