Wild At Heart
This past weekend Rochester started its first annual
Rochester Music Hall Of Fame
. This corresponded to Detroit's show which honored Suzi Quatro this year. I'm sure Detroit will have rock N rollers to honor until the end of time but we are not so lucky in that regard. This year we did induct the great
Cab Calloway
,
guitarist Gene Cornish
(of Rascals fame) and
Joe English
(drummer for Paul McCartney and Wings) but after that the rockers get kind of thin. We have the obvious choice of Foreigner's Lou Gramm and the late Mitch Miller. After that, we have a small pool of interest with blues great Son House, Sonic Youth's Kim Gordon and a pair of wacky female artists with Lydia Lunch and Wendy O Williams (of the Plasmatics).
Rochester's musical
claim to fame comes from being home to the Eastman School of Music
which puts a definite classical/jazz influence on our musical heritage. Four of the 8 inductees (the last one was the Corinthian Concert Hall from the mid-1800's and was noteworthy for having the best acoustics in the country at that time) were students/teachers at the Eastman School Of Music. The big name this year was
Chuck Mangione
who I actually share a bit of history with. My mother went to High School with him and was in band with him until he was kicked out. Years later, his first wife was the guidance counselor at my high school and I graduated with his youngest daughter Diana. Despite the divorce, Chuck kept a strong relationship with his kids which I have grown to truly appreciate as I got older. He came to the school a couple of times for events and he even flew in from Cleveland to play the National Anthem at our graduation ceremony. He also made sure to mention them in his acceptance speech last night. The funny thing is that Diana just started working for the same company as me so I got to deliver a message from him to his daughter since she had to leave early.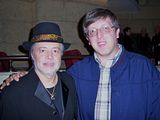 The remainder of the class included
flutist Doriot Anthony Dwyer
(the first women to win a principal chair on a major US Orchestra when joined the Boston Symphony Orchestra),
composer/trumpeter Jeff Tyzik
(won a Grammy producing the Tonight Show Band w/Doc Severinsen) and
composer/lyricist Charles Strouse
(wrote songs for musicals "Bye Bye Birdie" and "Annie" as well as them from TV series "All In The Family").
The show lasted about 3 ½ hours and was filled with nice introductions for each of the inductees as well as some nice performances. Dwyer didn't talk to the audience but played a beautiful flute piece accompanied by pianist Cherry Tsang. The other stand outs being Chuck Mangione's set of "Land of Make Believe", "Bellavia" and "Feels So Good", Charles Strouse's five song set (started with "Grey Skies Are Going To Clear Up" after making a joke about Rochester weather and ending with a pair of Annie songs) and Felix Cavaliere joining Cornish on stage for a few Rascal's numbers including "Good Lovin'". Cecelia Calloway (Cab's daughter) accepted for her father and did a rendition of "Minnie The Moocher" so while I never saw the man, it is nice seeing a family member on stage. The RIT Yellow Jackets, fresh off their appearance on "The Sing Off", also did a nice grouping of songs of the inductees.
The
weird moment
, for me, was Joe English who has found religion and while he no longer plays the drums, his does work for his church choir. He performed a spiritual song for the audience who would have probably have wished to hear a Wings tune. However, you
got to give a guy credit for changing his life around and doing something meaningful
. He talked about how his climb to the top of the music world left him feeling a void but he really enjoys his new life helping out kids in trouble from the local prisons and helping people in hospitals find peace.
Family (and friends) was a nice theme
throughout the night. When Cornish was on stage he had two empty chairs dedicated to his parents. Chuck mentioned he was performing for the first time in front of his youngest granddaughter and was joined on stage by his brother Gap. Tyzik recounted his close relationship with Chuck Mangione mentioning getting his degrees at Eastman but "I got my doctorate" playing six years with Chuck and "I needed a doctor when I was done". English reminisced about how close the musical community was as he remembered buying candy and soda from a grocery store that was owned by Mangione's father and would then go to a fishing store to buy worms that was owned by Cornish's stepfather.
All in all, it was a fun night and has me wondering about what I might have missed by not going to any of the Detroit Music Award shows. They just never seemed to work out for me to make it. Anyway, I'm not sure how successful this will be but I do hope it continues on and it will be interesting to see who gets nominated in years to come and if they will ever have a hall dedicated to the honorees. I think they should do something on the U of R campus or at the Eastman Theatre itself. It is such a big building, I'm sure they could find some place for a small museum dedicated to Hall inductees.
Thinking of all that good music has me thinking of shows to recommend this week:
Tuesday (5/01)
– Blue Man Group @ Fisher Theatre
Wednesday (5/02)
– Wishbone Ash @ Callahans , Blue Man Group @ Fisher Theatre
Thursday (5/03)
– Pop Evil @ Emerald Theatre, Blue Man Group @ Fisher Theatre
Friday (5/04)
– Joanne Shaw Taylor @ Callahans, Spiritualized @ The Majestic, Dewtons @ Magic Stick, Blue Man Group @ Fisher Theatre
Saturday (5/05)
– Weird Al Yankovic @ Fox Theatre, the Muggs open for Cactus @ Magic Bag, Trivium @ Machine Shop, Sponge @ Tequila Blue (Royal Oak) Blue Man Group @ Fisher Theatre
Sunday (5/06)
– Blue Man Group @ Fisher Theatre
Monday (5/07)
– Blue Man Group @ Fisher Theatre
I saw the
Blue Man Group
twice in Detroit at Pine Knob and they were both amazing shows. The first time was as an opener with Moby's Area 1 Tour with David Bowie, Ash, Carl Cox and a few others. The second time was as an headliner with Tracy Bonham and Venus Hum (who are amazing also) so I thought I would include a song from that last set. If you have never experienced the Blue Man Group, you should definitely make an effort to get to the Fisher Theatre when you have the opportunity.
I also did a daytrip to Syracuse to see Daughtry with some free tickets I won on a local radio station. I checked out the local Science Museum to waste some time which was just OK. The place is really designed more for kids with a lot of activities based around airplanes, the human body and geology. Next time I'll go to the Boxing Hall Of fame or something. Outside the museum though they do have a monument dedicated to the 24 second clock. It first came to use in 1954 in Syracuse, New York, where Danny Biasone, the owner of the NBA's Syracuse Nationals, experimented using a 24-second version during a scrimmage game to try and prevent boring games where a team with the lead would just stall for minutes at a time. He wanted to quicken the pace so calculated how many shots were being taken during a close match up and came up with 24 seconds. He put it into place during a scrimmage game and later got the NBA to adopt it, thus saving the NBA from boring games (maybe). Funny enough, the Washington Nationals won the NBA title the first year the clock was in use in 1955.