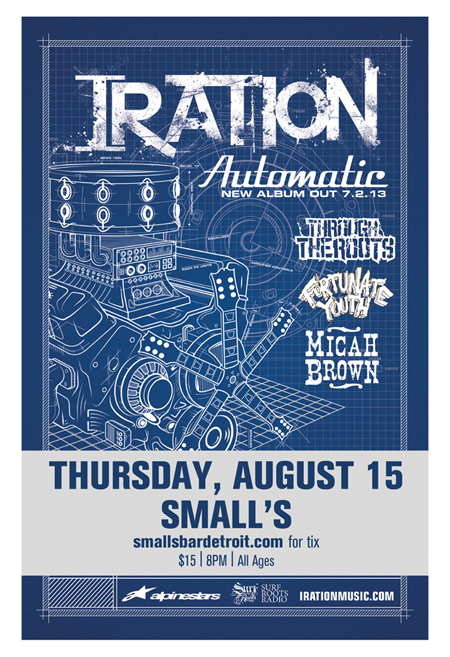 Need to get some funk out of your life and need a feel good pick me up show? Head down to Small's Bar in Hamtramck tomorrow night and let loose with Iration, a reggae group from Santa Barbara, CA known for their upbeat sound, catchy hooks and feel good vibes. Touring in support of their latest release Automatic which hit #1 on the Billboard chats, they will be hitting the stage tomorrow night along with Through the Roots, Fortunate Youth & Micah Brown.
Tickets are still available
for the low dough price of $15 bucks, and you know a show at Small's is always a guaranteed good time.
Iration is an alternative/reggae group of musicians formed in Isla Vista, CA. The group is made up of members Joseph Dickens (drums), Joseph King (Engineer), Cayson Peterson (Keyboard/Synth), Micah Pueschel (Guitar/Vox) and Adam Taylor (Bass). All members met while growing up in Hawaii but formed Iration after reconnecting in Santa Barbara, CA. They have since released: two full-length albums, Time Bomb(2010) and No Time for Rest (2007), as well as three EP's,New Roots (2006), Sample This EP (2008) and Fresh Grounds (2011).
Time Bomb, which has sold 36K+ copies, hit #1 on the iTunes reggae album chart and remains within the top 20 on Billboard's Reggae Album Chart to this day. The album included: "Turn Around" (which spent 11 weeks at #1 on San Diego's 91X, hit #1 on Riverside's KCXX and on Santa Barbara's KJEE, was in rotation at Honolulu's KUCD and Sacramento's KKDO, as well as being streamed on LA based KROQ), "Time Bomb" (which reached #1 on Santa Barbara's KJEE and has sold 57K+ singles), and "Falling" (which has moved 83K+ units since inclusion on both Time Bomb and Sample This EP, was an iTunes Discovery Download, reached #1 on Santa Barbara's KJEE, and #3 on Honolulu's KUCD). The Fresh Grounds EP debuted at #1 on the Billboard Heatseeker's Chart and on the Billboard Top 200 chart. The single "Summer Nights" from their Fresh GroundsEP reached #2 on the iTunes reggae singles chart. In 2012 the band released "Porcupine feat. Lincoln Parish" (guitarist for Cage the Elephant) and spent time in rotation on radio stations in Southern California, Colorado Springs, Montgomery AL, and garnered spins on over several alternative stations across the US including KROQ. Combined, Iration has sold 60K+ albums and EPs, along with over a quarter of a million single downloads to date. The group has been touring nationally since 2008, have performed at festivals such as: Lollapalooza, Wakarusa, Sierra Nevada World Music Festival, Sunset Strip Music Festival; and headlined several successful national headline club tours fostering multiple sold out shows throughout the country.
The third full-length album Automatic by Iration is due July 2, 2013. The album combines elements of reggae, rock and pop to create a truly unique listening experience - including additional production and instrumentation from Lincoln Parish, as well as the band's previous studio partner JP Hesser of Castaway 7 Studios in Ventura CA. In an effort to promoteAutomatic, this summer/fall 2013 Iration will embark on a national major market headline tour supplemented by several shows supporting Sublime with Rome, plays at The Cosmopolitan of Las Vegas' Thursday Night BLVD Pool Series, Orange County Fairgrounds' Pacific Amphitheater, and San Diego's Del Mar Race Track. The Hawaiian-bred musicians look forward to spreading their original sound and aloha spirit all the while never forgetting to get a surf in when possible.
http://pr.irationmusic.com/automatic/
https://www.facebook.com/iration
http://instagram.com/iration
http://www.youtube.com/irationlive