Wild
Bill Ketelhut
provides the "blog" to this anti-blog
Wild At Heart
Just had a wonderful must needed weekend in
Toronto
. Work has been hectic and things at home have been up and down and it was nice to get away. I stayed at the Holiday Inn in Brandtford which had a great heated pool which felt great though I was a bit disappointed it didn't have a fridge or continental breakfast like some of the other places in that area. Still, a nice heated pool goes a long way. Nighttime traffic was a bit of a bitch. They do most of there construction overnight when the traffic is the lightest but it can still be super busy. I hit about 5 major construction area hold ups over 2 nights which gets old fast because it is hard to bypass them. Still, the cost saving being just outside the city is worth it.
I saw
Adam Ant
with opener
Prima Donna at the Harborfront in Buffalo
the first night. They are playing tomorrow at the Scottish Rite Cathedral at the Masonic Temple. I was a huge fan of Adam in the 80's. Prima Donna is a serviceable band that has a nice glam rock feel though it is Adam Ant and all his costumes that you will want to see. While it was nice hearing songs like "Desperate Not Serious" and "Wonderful", as well as some new selections, I was a bit disappointed in the show esp while loving "Goody Two Shoes", it just wasn't as fun live as I thought it would be live. That is what you get sometimes with older acts sometimes. It wasn't "Flock Of Seagulls" bad but definitely not "Nick Cave and the Bad Seeds" good but somewhere in between. As a fan who had never seen him before, it was a good distraction for a free show and I'm glad I got him off my musical bucket list. He also has 2 great drummers, esp the sexy Jola who was worth seeing by herself (wish I had gotten a good picture of her). Here are some pics of both.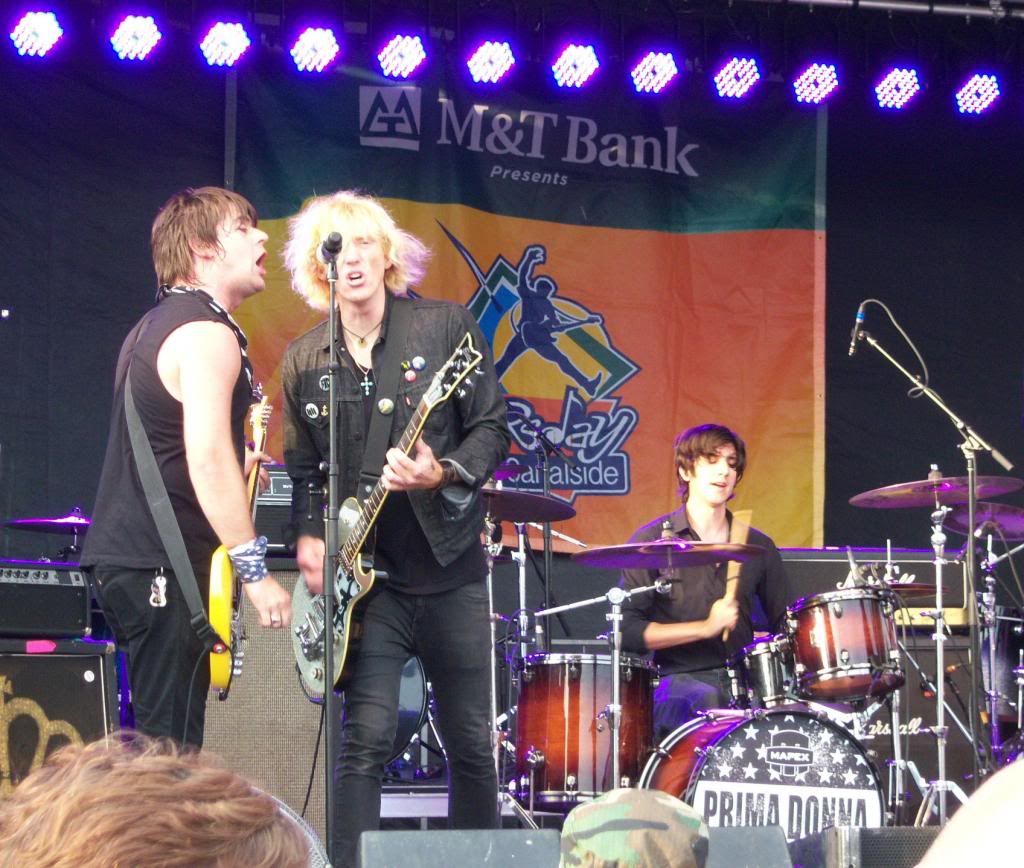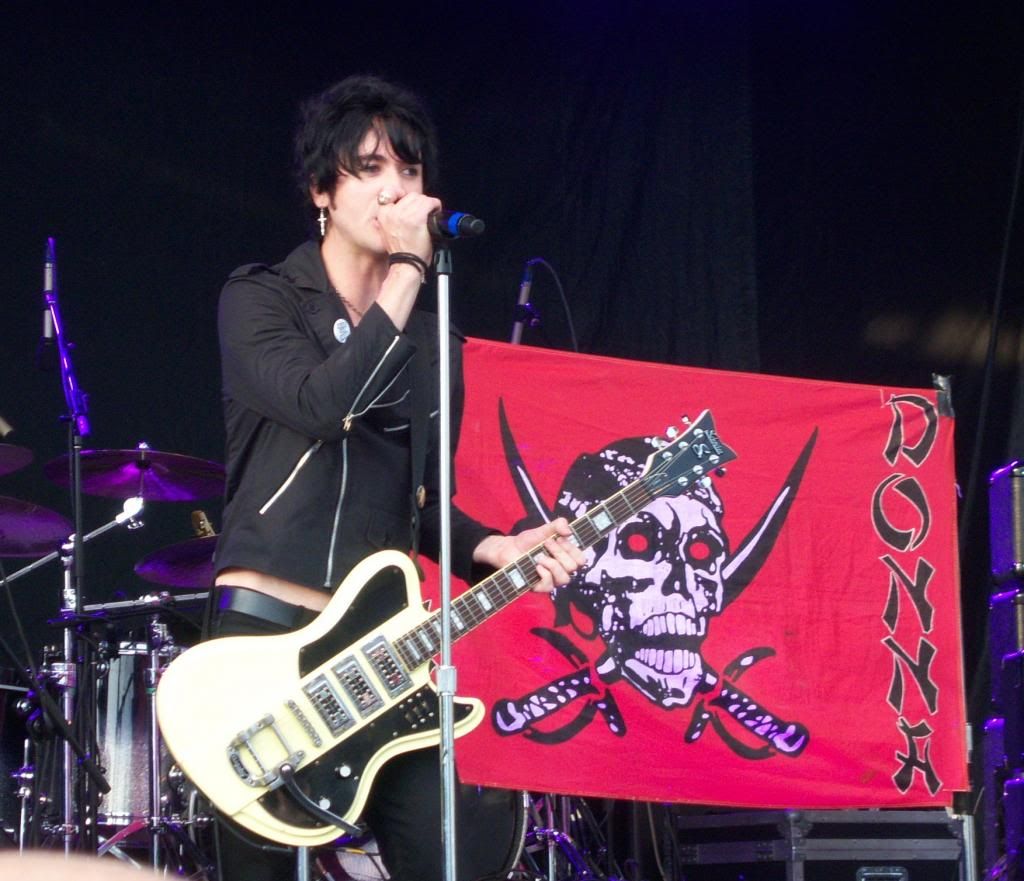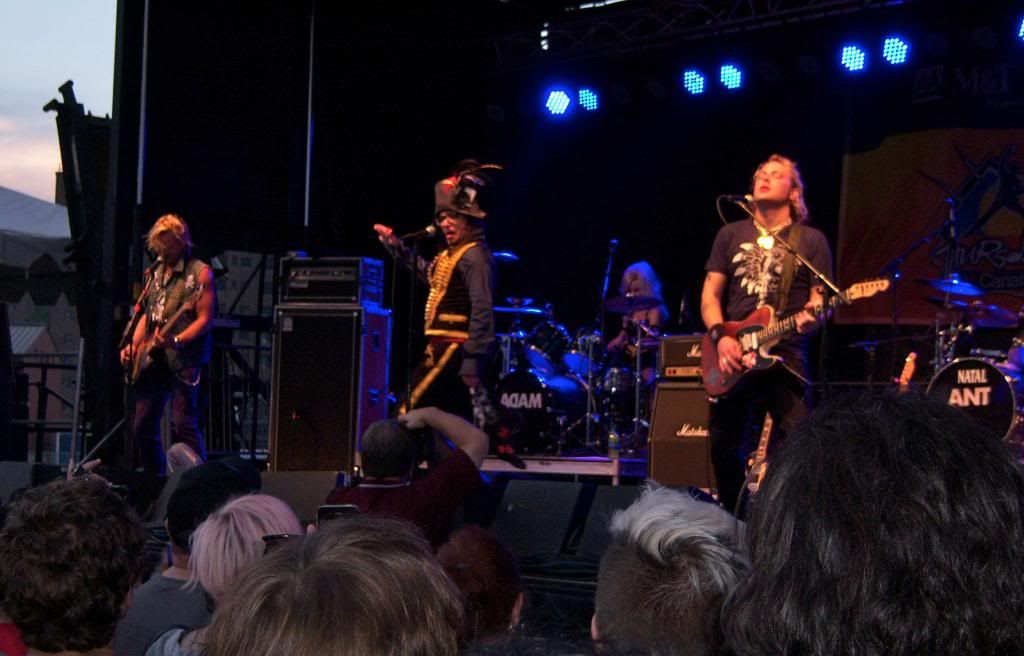 I also checked out the
Birthday Massacre
at the Revival which was part of the Rue Morgue after party for the Fan Expo. They were sponsored by Kraken Rum which was pretty good stuff and they had a costume party hosted by actors Ken "Dawn Of The Dead" Foree and Tristan "American Mary" Risk. Birthday Massacre came on stage a bit late and the London, ON band put on a great, high-energy show fronted by some nice vocals by lead singer Chibi. There last 2 albums have reached some success internationally and they are becoming a nice band so it was good to see them in their own backyard. If you like bands like a mix of the Cure or Mindless Self Indulgence, this is a band you might want to check them out (enjoy the video below).
I'll have some more next week with pictures of the Fan Fest and preview of the new Mesopotamia exhibit at the ROM. Until then, here are some shows you might like to experience:
Tuesday (8/27)
- Adam Ant w/Prima Donna @ Scottish Rite Cathedral, "Carnival Of Madness" feat Shinedown and Papa Roach w/Skillet and In This Moment @ Pine Knob, Serena Ryder @ Magic Bag
Wednesday (8/28)
- "Honda Civic Tour" feat Maroon 5 and Kelly Clarkson @ Pine Knob
Thursday (8/29)
- Reverend Horton Heat @ Magic Stick, Smokey Robinson @ Freedom Hill
Friday (8/30)
- "Art, Beats and Eats" feat Smash Mouth w/Audra Kubat and Candy Band @ Downtown Royal Oak, "Detroit Jazz Festival" feat Macy Gray @ Downtown Detroit, Mudhoney @ Magic Stick, Doobie Brothers @ Pine Knob
Saturday (8/31)
- Buckcherry @ Macomb Music Theatre, "Art, Beats and Eats" feat Montgomery Gentry w/Polish Muslims @ Downtown Royal Oak, "Detroit Jazz Festival" feat Brubeck Brothers Quartet w/Thornetta Davis and Four Freshmen @ Downtown Detroit
Sunday (9/01)
- "Art, Beats and Eats" feat Soul Asylum and Ty Stone w/Beth Stalker @ Downtown Royal Oak, "Detroit Jazz Festival" feat Yellowjackets and Gregory Porter w/Bill Charlap Trio @ Downtown Detroit
Monday (9/02)
- Matisyahu @ the Crofoot, "Art, Beats and Eats" feat Jill Jack and Sponge w/Dutch Pink @ Downtown Royal Oak, "Detroit Jazz Festival" feat Marcus Belgrave @ Downtown Detroit