Wild At Heart


I have had a pretty decent week keeping myself busy as best I can. I just came from a scotch and whiskey tasting at a local high class pizza joint here in Rochester called Tony D's which has some good pizza. They brought in some nice Kentucky whiskey and bourbon along with some scotch and Tony D's put out some interesting appetizers including a piece of garlic bread covered with a spread made of mushrooms and bacon. I know it might sound gross but it was delicious.


I also went to the local casino in Batavia and walked out $24 dollars richer. It's not much but I started with $5 of free play money so it is all good. I hit it big on the new Sex & The City slot machine and thought I'd call it quits. I have never been one for a lot of gaming but when you get free money it makes it a lot easier. Besides they have a good lunch buffet.


I spent some time taking it some free performances at some local record shops starting off with an acoustic performance of Taking Back Sunday which was pretty good. They only did three songs but it was fun listening to Adam tell a lot of stories about their time on the road these past few weeks including setting stuff on fire in the parking lot of their hotel. They will be playing Detroit on Dec 17 at the Fillmore as part of the Night 89X Stole Christmas Bash.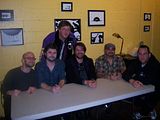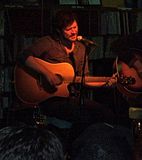 Speaking of Christmas, I saw the following display set up the day after Halloween which should just be morally wrong. With the penguins, I was hoping it was a Happy Feet promo but no such luck. I guess so much for getting into the Thanksgiving spirit going straight from the spooks and thrills to the $$$ of the cash registers.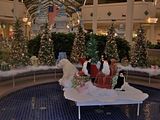 The other events I went to was at the World Famous House of Guitars, I place any true music lover should go to at least once to look at all the memorabilia on the walls. They put on a local drum clinic where you could free drum stuff and get advice from people such as Michael James Lasaponara, a session guy who plays locally but has worked with the drummer of Bad Religion and the producer of the Flaming Lips.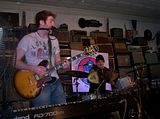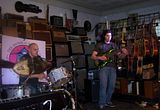 Then we had something a bit different with the Rochester Scottish Pipes and Drums.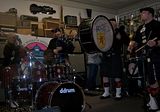 This was followed by an autograph session with Godsmack drummer Shannon Larkin who says the band is working on a new album and should hopefully be touring come spring.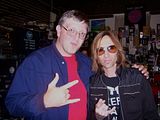 Lastly, we were given a tight set by Derrick Wright, who is currently the drummer for the hottest act of the year, Adele.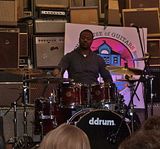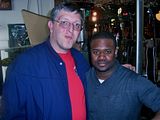 I was hoping to do a test drive of the new Volt when one of the dealerships had an Anniversary event but no one could find the keys. So I just made due with hot dogs, cake and cider as well as meeting famed Baltimore Orioles manager Joseph Altobelli who is originally from Detroit. He worked with the Rochester Red Wings which is why he is living here now but also had a brief stint with the Yankees and got a World Series Ring with the Orioles in 1983 (which he was wearing at the event).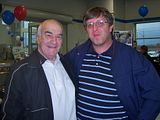 Lastly, I took a walk near one of our historic districts seeing a local historical museum and art gallery, eating dinner at a nice Caribbean restaurant and walking over a bridge by our falls which provided power for our flour mills which Rochester was famous for in the past and the Genesee Brewing Company for all you beer lovers out there.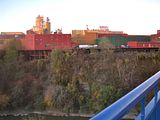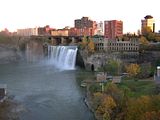 I also saw guitarist Billy Hector who plays a mean guitar and checked out a local comedy festival so I was keeping busy this week. I hope you all can find something to do. Detroit has a lot of history and free events going on everyday that can get you out of the house and experiencing new things so take advantage. If you are looking for some cool music, here are some shows I would recommend:
Tuesday (11/08) - Manchester Orchestra @ Clutch Cargos, Trampled By Turtles @ Blind Pig
Wednesday (11/09) - Meat Puppets @ Blind Pig, Hollywood Undead @ Compuware Arena (Plymouth)
Thursday (11/10) - Nashville Pussy & Supersuckers open for Fu Manchu @ Magic Stick
Friday (11/11) - Ray Manzarek and Robby Krieger (of the Doors) @ Fillmore, Harper @ Rochester Mills Brewery, Ragbirds @ the Ark, Sloan @ St Andrews Hall, Eric Burdon and the Animals @ Andiamo Celebrity Showroom (Warren)
Saturday (11/12) - Jill Jack @ Callahans, Railroad Earth @ the Majestic, Dick Siegel @ the Ark, Bret Michaels and Sponge @ the Emerald, Twistin Tarantulas @ Machine Shop (Flint), Dirty Americans @ Smalls
Sunday (11/13) - Judas Priest and Thin Lizzy @ Joe Louis Arena, Mat Kearney @ St Andrews Hall
Have a good week and stay active.