Wild At Heart
I was hoping to post pictures from
Rochester's Lilac Festival
throughout the week but I spent so much time out and about I never got around to posting more. I did have the opportunity to edit down some stuff so here are some pics from the festival for your enjoyment.
Still not many flowers but we have had some great music coming through here. I still haven't found a great alternative band in this area but the band
Rainline
brings a good hard rocking sound thanks to the rich vocals of lead singer Ken Kral fronting a well put together band.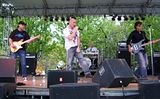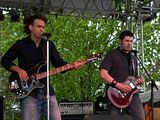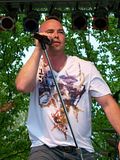 They opened up for a 9 piece NYC band called
Red Baraat
led by dhol (double-sided barrel shaped North Indian drum slung over one shoulder) player Sunny Jain (from Henrietta, NY). Essentially a party atmosphere band full of percussion and brass that mixes an infectious North Indian rhythm Bhangra with a blend of namely funk, latin and jazz. They are hitting the international scene as well as a performance at Bonnaroo this year. I could easily see these guys fitting into the Concert Of Colors or Hill Auditorium in Ann Arbor. Make some calls to get these wonderful performers to Detroit.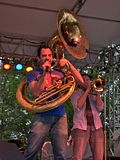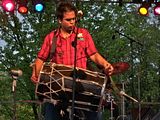 The next day we had 6 time Grammy nominee and founding member of Spyro Gyra, guitarist/composer/producer
Chet Catallo
who is currently performing with his new band The Cats and has made his home here in the Rochester area. He is currently supporting his new album "First Take".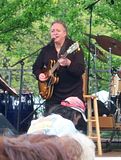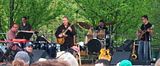 He opened for who I thought was the best band of the festival and my biggest surprise. I have heard a few things about
Cowboy Mouth
, which hail from Louisiana, but I was not prepared for the onslaught that they brought to the stage. These guys rocked harder that most rock bands out there and lead singer/drummer Fred LeBlanc is a true force of nature. If the bassist looks familiar, she is Cassandra Falconer who had toured in recent years with Debbie Davis and you might have seen her at one of the shows at Callahans. Guitarist John Thomas Griffith was a former member of the Red Rockers (remember the song "China") while rhythm guitarist Matt Jones played with Jimmie's Chicken Shack. They have a new album called "This Train…" which they played a number of great songs from (you might want to check this release out). The closest they will be to Detroit this summer seem to be the Hyde Park Bash in Cincinnati on June 12th.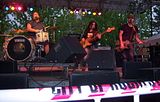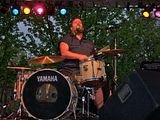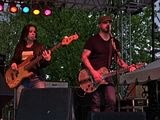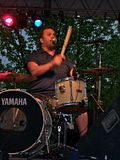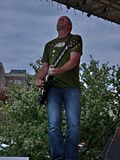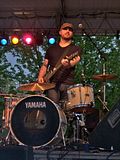 With the Eastman School Of Music right here, we do have a lot of jazz and classical music in the area and
Mark Cassara
, influenced by Junior Walker and Stan Getz, has been performing his smooth saxophone stylings for a long time in the Rochester area.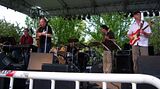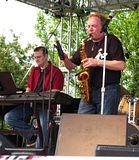 Cassara opened for
Steve Tyrell
, a jazz inspired singer who just released a CD entitled "Back to Bacharach". It was his singing appearance in the movie "Father Of The Bride" that got him the attention to move more to the forefront of the music biz from which he was mainly known as a producer who worked with such artists as Rod Stewart, Stevie Wonder, Smokey Robinson, Diana Ross, Bonnie Raitt and the band Blood Sweat and Tears (of which he tours with their trumpet player, the legendary Lew Soloff).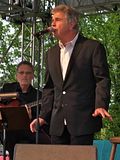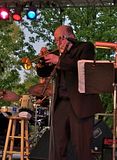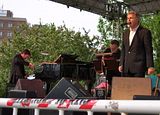 The last night I have represented here today started with Melvin Henderson's long standing jazz group
Paradigm Shift
which has been together for about 20 years. They play a soulful sound with a touch of funk. They are playing mostly New York shows but I think they would fit in nicely with the Detroit Jazzfest sound.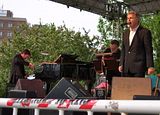 They opened for singer
Melissa Manchester
who has been around since the 70's and studied songwriting with Paul Simon before becoming a back-up singer for Bette Midler. She broke out on her own and scored a number of Top 40 Hits with "Midnight Blue", "Don't Cry Out Loud" and what she refers to as her workout song "You Should Hear How She Talks About You". She played a great set of covers and original material which she delivered with wonderful sense of fun.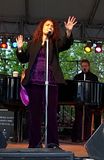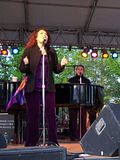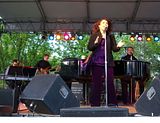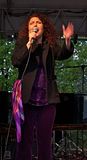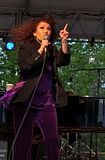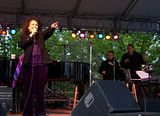 I have a couple of more shows to post later this week for Reggae fans with Rochester's Nevergreen and the immortal Wailers as well as Steel Magnolia for country fans. Keep an eye out for those.
Have a good week and here are a few shows to keep an eye out for.
Wednesday (5/23)
– The Maine @ St Andrews Hall, LMFAO @ The Palace Of Auburn Hills
Thursday (5/24)
– School Of Rock (Best Of Season) @ Crofoot Ballroom
Friday (5/25)
– Bonnie Raitt & Marc Cohn @ Hill Auditorium (Ann Arbor), Joe Pug @ Blind Pig
Saturday (5/26)
– Gogol Bordello @ The Fillmore, "Bled Fest" featuring The Swellers and Flatfoot 56 (among others) @ Hartland Performing Arts Center (Howell)
Sunday (5/27)
– Carl Craig & Juan Atkins @ Movement Electronic Music Festival
Monday (5/28)
– Langhorn Slim and Ha Ha Tonka @ Crofoot Ballroom, Kevin Saunderson @ Movement Electronic Music Festival