Wild At Heart
As promised, here are picture featuring the country acts that played at the Rochester Lilac Festival. Now we are getting to the end of the pics, I finally have some bands that are coming through the area starting with
Driftwood
. I just caught the tail end of their performance of folk inspired Americana. There last record, "A Rock N Roll Heart" was mastered by Grammy winner Scott Hull (for the Steely Dan album "Two Against Nature" and the John Mayer album "Room for Squares"). Over the next few months they will be performing at a number of grassroots festivals from NY to NC and they are going to be at The Wolverine Brewing Company on June 29th in Ann Arbor.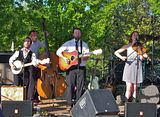 Having seen a number of American Idol contestants over the years (including most recently Daughtry), it was only a matter of time before I saw someone from its competitor "The Voice". So my first person is of course a country singer who goes by the name of
Gwen Sebastian
. While losing during the battle rounds, she must have impressed judge Blake Shelton who asked her to tour with him. She has a decent enough voice and a nice personality that fits in nicely with the basic country crowd.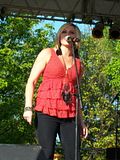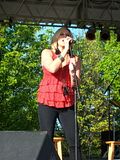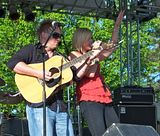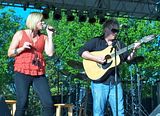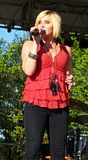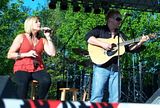 At the show, we had a few celebrities in the back stage area including
Buffalo Bills player David Nelson
and his beautiful
girlfriend, Dallas Cowboy cheerleader, Kelsi Reich
. Yep that's the player who gave a football to his girlfriend during a game late last year when they played each other.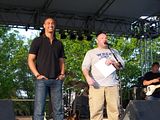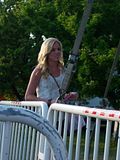 The headliners were
Steel Magnolia
, the couple who won the talent show "Can You Duet" (how many of these shows are there now) in season 2. I wasn't as enamored with them as I thought I would be but they have a nice stage presence together which makes them somewhat enjoyable to watch and they have a great drummer (from Rochester, NY). The closest they are getting to Detroit this year would be the Burlington Country & Blues BBQ on July 14th.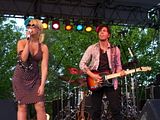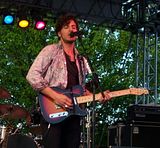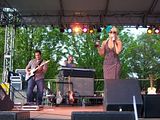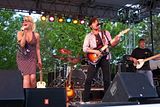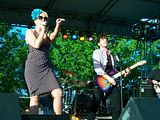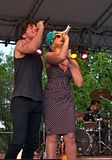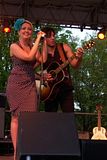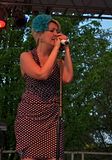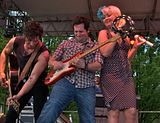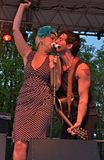 Lastly, there is the country trio,
The Farm
. I didn't take many pictures this day as the front was mobbed since Krista is from Batavia which is pretty much right down the road (think Ann Arbor to Detroit). This band had a lively show though maybe a few too many covers for my taste (ranging from Johnny Cash to Queen). They do put on a rockin' show which would feel right at home in a Honky Tonk. These guys are actually coming to Detroit this summer on June 9th for the Country Hoedown so get your dancing shows and cowboy hats out for them when they come through.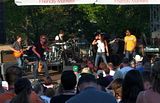 So those are my pictures from the Lilac Festival this year. Some really good bands and I wish more were coming through the Detroit area this year, esp Cowboy Mouth who really rocked. I got some stuff I'm working on for the summer so catch you later and enjoy the pics.