Wild At Heart
OK, I got a little behind on my posting this past week so I will try to make up for it. Had a busy week getting the yard and garden in shape.
I am also trying to get involved again with the Sound Of Music Festival (with artists Basia Bulat, Big Sugar, Mother Mother, etc) as well as plans for Radiohead in Toronto. Also getting ready for a garage sale and the upcoming Rochester Jazz Fest which had a preview last night starring the wonderful Marc Cohn and Bonnie Raitt in a rockin' concert. After working all day trimming bushes, washing the kitchen floors and hanging some new curtains, I have about 1/2 hour left to link as many pictures as I can because I have to be at work at 5:30AM. What I don't get posted will wait til Wednesday (I promise).
So here we are with a local Rochester reggae group called
Nevergreen
who opened for the legendary Wailers at the Lilac Festival. They are a fun little band with a vibrant lead singer, a good drummer and some nice horns.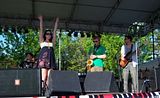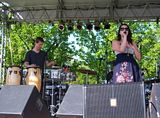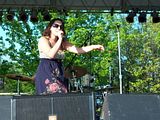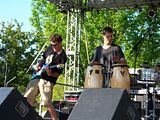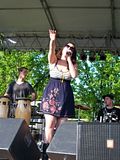 The Wailers
are of course a continuation of Bob Marley backing band and they are still going strong after all these years. I saw them for the first time about 15 years ago when living in Toledo and then again at Rothbury before seeing them last week. Most recently, they just missing the Top 40 charts with the song they did with Kenny Chesney which stalled at number 41. As a unit, they might not carry the same weight as bands like Steel Pulse but they are a pleasure to listen too as they go into songs that most people think of when they think of Reggae like "Jammin", "One Love", "No Woman No Cry" and "Redemption Song".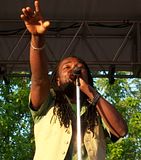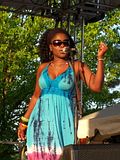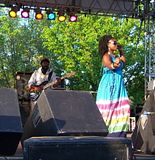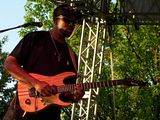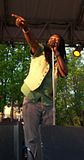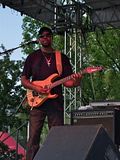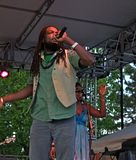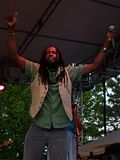 I will post the country stars on Wednesday but in the meantime here are some recommended shows for the week with some nice stuff going on. Especially exciting in the Patti Smith show at the DIA. They are putting on the first exhibition of her photography and that in and of itself should be on interest for real music fans. The concert will feature her son Jackson on guitar and daughter Jesse on piano making it a real family affair. Stephane is a great guitarist in the Django school of playing and it a nice diversion.
Wednesday (5/30)
- Drake @ Pine Knob, Stephane Wrembel @ the Ark
Friday (6/1)
- Patti Smith @ Detroit Institute of the Arts, Bobby Vinton @ Caesar's Windsor, Thrice @ St Andrews Hall, Mitch Ryder & the Detroit Wheels @ Belle Isle Grand Prix
Saturday (6/2)
- The Cult and Puddle Of Mudd @ Beaverfest (Windsor Riverfront)
Sunday (6/3)
- Rockin For A Match Bone Marrow fundraiser featuring Jill Jack and Stewart Francke (plus a lot more) @ St Andrews Hall, Third Day & Jars Of Clay @ Pine Knob
Monday (6/4)
- Punch Brothers @ Magic Stick