Wild
Bill Ketelhut
provides the "blog" to this anti-blog
Wild At Heart
This was a sad week for me though I did have some enjoyment at the
Field Of Dreams
game here in Rochester. I was a bit late but it was nice seeing some old time greats like Ozzie Smith, Wade Boggs, Reggie Jackson and Ricky Henderson in action even if only for a game played more for the fun of it. Along with these great players and coach Johnny Bench, they were joined by some minot leaguers and some fans who got a dream come true playing on the same field as these legends. I just took a few pics here of Reggie and Ricky at bat with Johnny at the pitchers mound making a pitching change. This was a fun game and it was the 2nd biggest game at our stadium at 13,000 fans.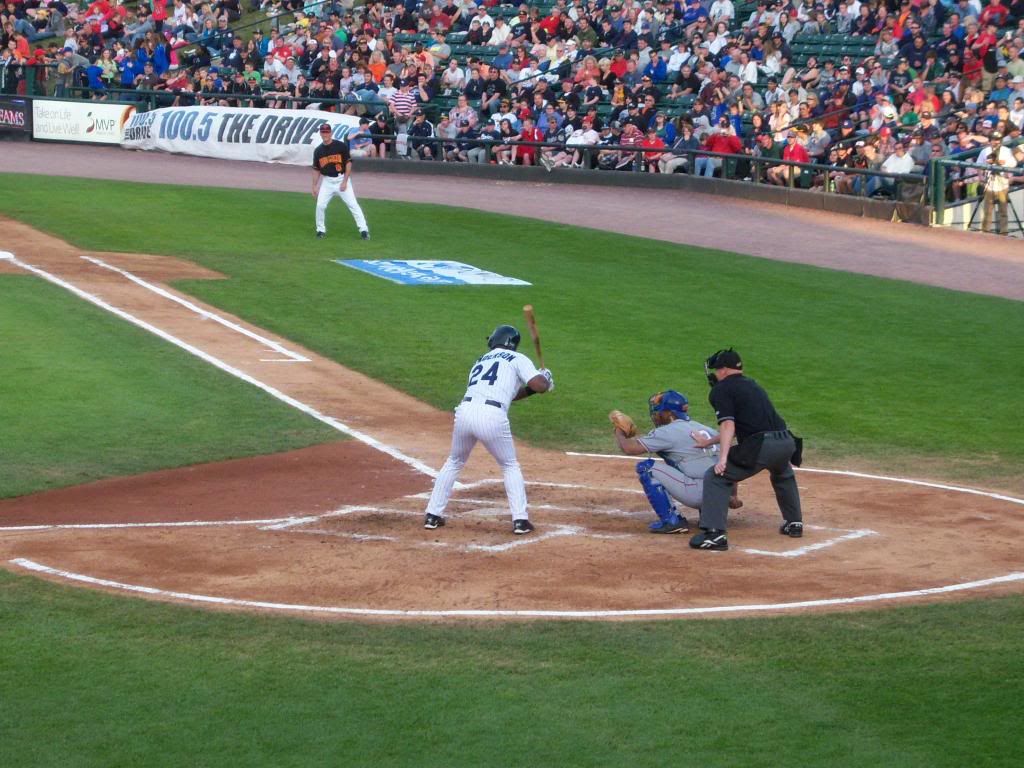 On a sadder note, my mom passed away this Sunday at the age of 70. I am really happy I left Detroit to come back home to be with my parents these last couple of years so I have no regrets. I am glad I was able to take them on a trip to see Brenda Lee at Salamanca Casino and that I made the effort to put up a lot of Christmas decorations which hadn't been put out in years and my mom loved. I'm glad I got in a few games of Scrabble with my mom but wish I had done a few more. I enjoyed doing small things for her like picking up Lilac based gifts, esp the nail files, from the Lilac Festival and helping making some home improvements she wanted. I enjoyed helping her organize things for her AARP picnics and Christmas parties. There is so much I will miss with her not being here but I thank the stars I was able to be around which she enjoyed so much. I do regret she didn't get to see the film I was in. I just got a copy of it this winter and was ready to show it to her the night she went into the hospital. It's only 14 secs of screen time but that is not the point. I also wish she could see the redecorating I did upstairs and the additions to my Marvin The Martian collection which she enjoyed. I have been working hard helping to pick out her coffin, planning her viewing, keeping people informed of what is happening, etc. It is amazing how many people knew her and how many lives she has touched. I will really miss her.
I also noticed that
Ray Manzarek
of the Doors passed this weekend. I always felt too much of the Doors fame went to Morrison. Manzarek was integral to creating that sound, along with Krieger's songwriting, but when you have a personality of big as Morrison's it is easy to get lost behind it. I got to see Manzarek at Pine Knob a number of years ago when Ian Astbury fronted their reunion and they played with bands like Steppenwolf and Vanilla Fudge opening. A truly great show and rock mourns the loss of this legend.
Here are a few concerts you might be interested in:
Tuesday (5/21)
- Codgers @ PJ's Lager House
Wednesday (5/22)
- Fall Out Boy @ the Fillmore
Thursday (5/23)
- Stewart Francke @ the Ark
Saturday (5/25)
- "Bled Fest" featuring Swellers and Anti-Flag @ Hartland Performing Arts Center (Howell), Movement Festival featuring Moby DJ set, Carl Craig and Richie Hawtin @ Hart Plaza
Monday (5/27)
- Movement Festival featuring Derrick May, Kevin Saunderson and John Digweed @ Hart Plaza