Wild
Bill Ketelhut
provides the "blog" to this anti-blog

Wild At Heart
I have always been a big fan of movies even if I don't always see them first run. This past week I saw "Winter's Bone" and "Restrepo" which means I have now seen all the films nominated for Best Picture and Documentary. I usually end up at the local $1 theatre (I see about 52+ films a year so cost is a factor) but a lot of people I know like to go see films when they first come out.
A new venue is about to open this May in Royal Oak with Emagine Royal Oak and Star Lanes
. I really hope that this doesn't negatively impact the beautiful Little Theatre and the high quality films that play there but it sounds like it is going to be a place not only to see a movie but to also hang out with friends. It will have 10 theatres with 1700 plush seats and 16 bowling lanes. Two of the theatres will feature 4K digital capacity which should be great viewing for summer blockbusters like the upcoming "Harry Potter" and the like. They have their own parking garage that will have
free parking before 6PM which is great for matinees
. It looks like they have gone all out to make going here an experience. I wish I was in the area to be able to go to the ribbon cutting ceremony on May 16th but alas that is not meant to be. If you want to check them out in style, you can look into three charity events happening in the upcoming week.
On
Friday, May 13th, Variety, the Children's Charity
, will host "A Star is Born" as a black-tie gala will feature exquisite food created by Emagine's executive chef, Mathew B Johnson working in conjunction with Master Chef Shawn Loving. The evening will feature first class entertainment including headliner, Bob Anderson, plus much more! For tickets or more information, please contact Variety at 248-258-5511 or www.variety-detroit.com.
Next, on
Saturday, May 14th, The Judson Center will partner with Gleaners Community Food Bank
for "A Night to Emagine" a celebration to benefit these two non-profit organizations. The red carpet evening begins at 7PM with cocktails, freshly prepared food, bowling, interactive experiences, etc. For tickets or more information please contact 248-837-2027 or www.judsoncenter.org.
Finally, on
Sunday, May 15th, The Boys & Girls Club
will team up with the Royal Oak Foundation for Public Education to bring you "Emagine for Youth". Kicking off with music by the Royal Oak High School Jazz Band, the family event runs from 1-4PM with an afternoon at the movies. Beginning at 5PM, the VIP Red Carpet Event will take place and include food, bowling, and entertainment. For tickets to these events, please visit www.2011emagineforyouth.kintera.org.
Emagine is setting itself up as the theatre to see big blockbuster movies in the Detroit area so if you get the time, head on over later in the month and check out the facilities. Royal Oak seems to be the perfect choice for this type of movie experience with it's great restaurants and cultured residents.
Speaking of films, those of you who enjoy the Detroit Jazz Festival might want to check out the Wednesday, May 11th screening of the
film documentary "CHOPS"
with music by Ricio Fruge at the MSU Community Music Center which takes audiences inside the Essentially Ellington Festival, a national high school jazz band competition hosted by Wynton Marsalis at Jazz at Lincoln Center. For information about time, location and ticketing, visit http://detroitjazzfest.com/concerts.
If you are looking for actual music, here are some ideas for the week:
Wednesday (5/11)
- Prussia @ Crofoot, Family Force 5 @ Eagle Theatre
Thursday (5/12)
– rockabilly legend Wanda Jackson & Holly Golightly @ Magic Stick, Orquesta La Inspiracion @ Arab American National Museum
Friday (5/13)
- Flaming Lips @ Fillmore Theatre
Saturday (5/14)
- Country Hoedown featuring Josh Gracin, Gloriana, Ty Stone, etc
@ Hart Plaza, Sharon Jones & the Dap Kings @ Crofoot
Sunday (5/15)
- Chicago @ Caesars Windsor, Dredg @ EagleTheatre, Akon opens for
Usher @ Palace Of Auburn Hills
Monday (5/16)
- Seether @ Clutch Cargos
If you miss Wanda at the Magic Stick you can see her again at the Cleveland Rock-N-Roll Hall Of fame on May 14th for their tribute to "
Women In Rock N Roll
". Jackson will be playing Darlene Love, Mavis Staples, Curt Smith (Tears For Fears) and my girl
Cyndi Lauper. Go to http://rockhall.com for more info.
Speaking of music, here is another picture of
Jane Dracula
I thought of putting in my blog but didn't so here it is.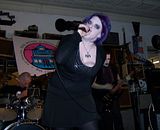 I also had the pleasure this week to see an in store performance by
Sarah Lee Guthrie and her partner/husband Johnny Irion
. They are just finishing up a tour with Martin Sexton before they head home to their MA home. They are touring with their 4 year old daughter but are looking forward to getting home to see their 8 year old who stayed behind. If the name sounds familiar, she is the youngest daughter of folksinger Arlo Guthrie and the granddaughter of Woody Guthrie. The couple just released a new album, "Bright Examples" which you can check out on their website www.sarahleeandjohnny.com.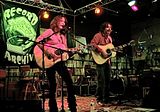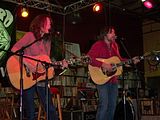 Here in Rochester, we are getting ready for the Lilac Festival which is a must for flower lovers and includes performances by Third World, Joan Osbourne, Little Feat, etc. Here is a song called "Lilacs" by Sarah Lee and Johnny. Enjoy!
It's been awhile since I have found a recent book worth mentioning on this blog, but I just read
"The Horror! The Horror!: Comic Books the Government Didn't Want You to Read!" by Jim Trombetta
. The text of the book juts gives a cursory discussion of various themes of 50's horror, crime and sci-fi comic which caused the famous comic book witch hunt spearheaded by that loser Fredrick Wertham (sorry I love comics and his work didn't feature any control groups which should be a big no-no for someone like him). The main reason to get this book is some of the wonderful stories and covers of comics like "Crime Does Not Pay", "The Crypt Of Terror", "Weird Horrors", "The Thing" and "Witchcraft". The covers and stories feature vampires, ghouls, zombies and many other unsavory images by some of the best artists in the business including Wallace Wood, Basil Wolverton, Don Heck, Steve Ditko, Alex Toth and LB Cole. The book also contains a DVD of a episode of "Confidential File" from Oct 9th 1955 talking about the evils of comics on the effects of juvenile delinquents which is worth the cost of the book itself. Colorful and strangely grotesque, this should be a must for any comic book or horror fan. Here is a video of about the book.