Wild
Bill Ketelhut
provides the "blog" to this anti-blog

Wild At Heart
Last night in NY, we had rain all day and temperatures below 40 degrees, which begs the question "Did we just skip summer and go directly to fall?". Here in Rochester, we are having our
Lilac Festival
, which is a great time to see the flowers (which are probably getting rained out) and some nice national bands (the Rascal's did get rained out). I remember fondly the images of Macaroni Man dancing away at the festivals in Detroit, esp in Mt Clemens. It seems here we have the Flower Man with spray painted hair and flowers wrapped around his arms and legs. Every city needs its local color! I just wish I got a picture. Maybe later in the week if I'm lucky. I did get a few pics of the
Kentucky Headhunters
(originally formed in 1968 as Itchy Brother) as seen below and a video of their biggest hit.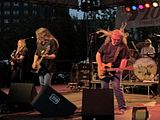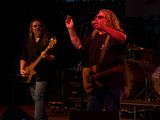 Since I don't have anything else to talk about, let's just get right on with my concert picks of the week:
Tuesday (5/17)
- Bob Seger & the Silver Bullet Band w/Rockets @ Palace Of Auburn Hills, Manchester Orchestra and Cage The Elephant @ Fillmore Theatre, Raul Malo @ The Ark
Wednesday (5/18)
- Gorevette opens for Japanese punk band Guitar Wolf @ Magic Stick
Thursday (5/19)
- Ben Sollee @ Magic Bag, Bob Seger & the Silver Bullet Band w/Jill Jack @ Palace Of Auburn Hills, Gordon Lightfoot @ WFCU Centre (Windsor), Sick Puppies @ St Andrews Hall, Saving Abel @ Machine Shop (Flint)
Saturday (5/21)
- Bob Seger & the Silver Bullet Band @ Palace Of Auburn Hills, Ragbirds @ Salem High School (Canton), Ruiners @ PJ's Lager House
Sunday (5/22)
- Janelle Monae opens for Bruno Mars @ Caesars Windsor
Monday (5/23)
- Adele @ Royal Oak Music Theatre, Broadway singer Patti LuPone w/Detroit Symphony Civic Orchestra @ Berman Center for the Performing Arts (West Bloomfield)
I remember seeing Adele when she played at St Andrews Hall with the Script opening up for her. She is a very talented lady and the success of the new album showcases that well. Definitely a show to check out.
Hope everyone has a good week and I'll be posting some more pictures from the Lilac Festival. Any flower lovers looking for a road trip, check out http://www.lilacfestival.com/.