Wild At Heart
It has been a rainy week up here but luckily there was some sunshine so I went out and
planted my garden
as pictured here: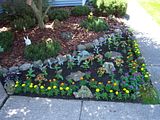 Spent a couple of more days at the
Lilac Festival
which struggled along with the rain but got clear skies for
Joan Osbourne
who is wonderful live:
I did do some indoor shows like
Australian artist Harper
@ Dinosaur Barbecue. He mixes a blend of rock and Aboriginal music for this powerful bluesy, rocking world music mix. He is a big fan of Muddy Waters and Stevie Wonder and he plays a mean harmonica and didgeridoo. I highly recommend seeing him when he comes through town. He will be at
Scooter's in Flint on June 5th
and will return a few times for the London Blues Festival and Guy Hollerins in Ann Arbor in July. To check his schedule, go to http://www.harper.biz/index.html for more info. His back up band he played with in Rochester including three guys from the Detroit area. Check out the song below.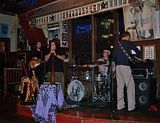 As I'm recommending shows, here a few cools shows that should entertain you this week:
Tuesday (5/24)
– Empty Orchestra opens for Two Car Garage @ Magic Stick
Wednesday (5/25)
– Doobie Brothers @ Pine Knob, Man Man @ Eagle Theatre, Neon Trees @ St Andrews Hall, Silverstein & Bayside @ Crofoot
Thursday (5/26)
– Arctic Monkeys @ Clutch Cargos, Robin Trower @ Royal oak Music Theatre, Crash Test Dummies @ the Ark
Friday (5/27)
– Nico Vega @ St Andrews Hall
Saturday (5/28)
– Peace In The Middle East Rally featuring Electric Lion, Daestro, Mick Bassett, ect @ Magic Stick, Movement Electronic Music Festival w/ Richie Hawtin, etc @ Hart Plaza
Sunday (5/29)
– Brett Dennen
w/ Dawes
@ St Andrews Hall, Movement Electronic Music Festival w/ 69 (Carl Craig), etc @ Hart Plaza
Monday (5/30)
- Movement Electronic Music Festival w/ Dirtbombs, Flying Lotus, etc @ Hart Plaza
The
Peace in The Middle East Rally
will have representatives from several local and national political activism groups handing out free literature, petitions to sign and educational information regarding activism opportunities to create change in US policies regarding the War on Terror abroad and at home. With all that is happening in Libya and Egypt along with Osama's death, this might be a
good time to try to actually learn something important
as well as checking out some good local music.
I had a good time at
The Main Street Armory
here in Rochester for fans of classic rock. This concert hall is an old training facility for the army and my dada was stationed there back in the day. You know when you had to walk up hill to and from school! The show featured the
Orleans, Robbie Dupree, John Cafferty, Joe Bouchard and Joe Lynn Turner
(who is still rocking hard doing both Rainbow and Deep Purple hits) and had
New Zealand singer Anita Prime
(make me miss the KIwi girls) opening up. Unfortunately, the show is not coming to Detroit. The closest it is scheduled is Reading, PA on August 26th. Road trip? Hearing either Turner belt out "Woman From Tokyo" and "Smoke On The Water" or Cafferty doing "On The Dark Side" might make it worth it. Here are a few shots: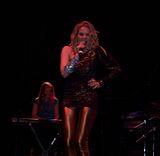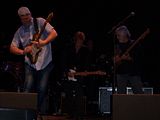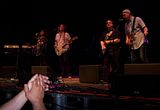 Have a great week. I'll have a
couple of movie reviews coming up
for "L'Amour Fou" and "The First Grader" later in the week. Until then, rock on!!