Wild At Heart
Had a busy weekend esp Saturday which saw me driving all over western NY starting with a trip with my parents to Canandaigua, NY to go to the Rheinblick German Restaurant (kind of like someone from Detroit driving to Frankenmuth) for some real German cooking to celebrate my parents 45th Wedding Anniversary.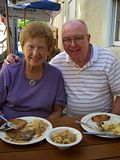 Had a great morning also stopping by a wonderful antique mall where I spent way too much money and then some time by the lake.
After dropping my parents back home, I took off to Niagara Falls to go see Neal Sedaka in concert at the Seneca Falls Casino. If you remember earlier in the year I previewed the casino and the area and enjoyed getting back. This time the show took place in the bigger room. Though not as nice seating wise, the sound came through decently. Neal put on a great show hitting on his hits (big and small) but also impressed me with four recent songs which show he hasn't lost a bit of his songwriting quality. He has written hits for Elvis Presley, Captain & Tennille, Queen, Peggy Lee, Neil Diamond, Carole King and many more and he showcased it all tonight. Not bad considering he is currently in his 80's and still going strong. What I didn't know was that he spent 5 years at Julliard studying classical music before becoming a rock star and he played a classical piece also. He ended up playing for an hour and 45 minutes which isn't bad for this type of show (considering Bennett only does an hour). Afterwards I headed down to the other concert venue to catch a glimpse of Gino Vanelli who was also playing that night. All I got was this one picture though.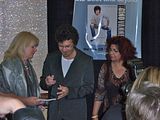 I did spent some time on Three Sisters Islands which is right off Goat Island (remember my pictures of me under the falls). The islands are just upland from there. Here are a few pictures you might enjoy.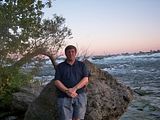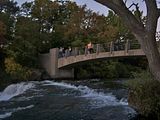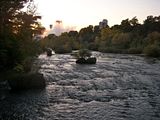 Have to get going now, but here are some great concert selections for the upcoming week:
Tuesday (10/11) – Primus @ Michigan Theatre, Dick Dale @ Magic Bag
Wednesday (10/12) – Blues Caravan @ Callahans, Blue October @ Royal Oak Music Theatre, Matt Nathanson @ Crofoot, Minus The Bear @ St Andrews Hall, Bayside and Saves The Day @ the Majestic
Thursday (10/13) – Rogue Satellites open for Lowe @ Vernors Lounge (Pontiac)
Friday (10/14) - Lou "Lightning Strikes" Christie and the Marcels @ Ford Community and Performing Arts Center, Prussia @ MOCAD, Widespread Panic @ The Fillmore
Saturday (10/15) – Dum Dum Girls @ Magic Stick, Jessica Lea Mayfield opens for Jayhawks @ Michigan Theatre, Mustard Plug @ Blind Pig, Orbitsons @ New Way Bar, Red @ Emerald Theatre, Misty Lyn @ The Ark
Sunday (10/16) – NOFX and Anti-Flag @ The Fillmore, Zappa cover band (with Ike Willis and Ray White) Project/Object @ Magic Bag, Portugal The man @ St Andrews Hall
Monday (10/17) – Aggrolites @ Magic Stick, Screaming Females @ Small's
Later this week I have 4 movie reviews and an interview with the lead singer of the Aggrolites so look for those. I'll leave you with a song by Dick Dale.