Wild At Heart
When I first saw one of his videos I got a strong impression of Kris Kristopherson and Shooter Jennings. This made sense once I realized that
Leroy Powell
played with Shooter for a number of years as well as artists like David Allen Coe and Lynyrd Skynyrd which gives him a great background for opening for ZZ Top this week.
When asked to describe his music he simply states "I don't explain it" but admits
it is southern rock as "Waylon meets Jimi"
. Looking and his introduction to music, he admits "I just fell into it" and has fond memories of listening to his dad play guitar. He was a "campfire guitar player and never pursued it" but he did inspired his 12-13 year old son with his folksy finger-pickin' guitar with songs by artists like Kristopherson, Dylan, Gordon Lightfoot and various hillbilly songs as well as laying down a slight gospel foundation. He muses "until I was 13 or so, I though he (his dad) wrote "Me and Bobby McGee"".
As he was experiencing this music he found that he was just becoming "obsessed" with it and "I never wanted to do anything else". He just wanted to make something that sounded cool and that just works together which might explain some of the music that really attracted him to the country rock genre. He sees the strong nostalgia factor of the music esp relating to his father but also
likes the "heart" of the music as well as the fine story-telling and song writing
. He found bands like Led Zeppelin on his own and likes that nowadays one can go online and easily find groups that are similar to bands one already enjoys. He also enjoys the "big hero cowboy stories" and the "big booming voices" of artists like Paycheck and Waylon as they sing about these super-hero types. He also admits he will jam to Sabbath and finds the music of Coltrane to be a big influence on guitar.
When asked about the current state of country music, he says "if you have nothing nice to say, don't say it" but adds some frustrations about the industry stating that what the mainstream stations are playing is not really indicative of some of the really good country music out there. "
Focus groups are destroying the art being made
" and "pigeon-holing music for ad minutes". If people are not being giving time to really relate to the songs, they just disappear and "nothing cool can get through". The analogy he makes is that "even Van Gogh didn't sell til he died" and a lot of good music is left by the wayside for future generations to find.
I asked him to mention some bands that people should get into that are country fans that they might not think of and he brought up some classic groups like Commander Cody and the Grateful Dead (being a "killer country band" with some unbelievable late 70's material). When thinking of his above comments, the guy that really hits home for me is the great Graham Parsons who has put out some amazing material over the years but has never broken through the mainstream despite having a strong cult following. He states "
old Graham Parsons is so cool
" and I just have to agree.
On my own admission, and not Powell's, is that every generation has its popular singers that have mass appeal. I look at Justin Moore, Taylor Swift or Chris Young today that are OK to listen to but I am trying to find the next country equivalent to the Waylon, Cash or Merle and only Jamey Johnson, Gretchen Wilson or Zac Brown Band in the mainstream seems to come close in my opinion to being something a bit different in that direction. We definitely need more rebels in country music. Back to Powell…
He is just put the finishing touches on his newest album "Le Muerte Del Amor" which you can find online at his website http://leroypowell.com/ with his five man, the Stone Jack Ballers as they are touring with ZZ Top and Gretchen Wilson, a fitting line-up for Powell, which has him very excited. He also recently got off a tour with Detroit's own Kid Rock and Sheryl Crow. While listening to Rock during shows, he was taken in by his song writing and strong characters and
had this epiphany to make more accessible songs
. He also wanted something along the line of the Rolling Stones which have these rocking songs with these great choruses and strong bass playing. Guys should relate to this song which works on the main theme of "the traditional guy gets stomped on by a girl and comes back".
The new album
explores that personal area
which comes from a real place and connects with the
idea of Love and Death
. The songs really rock so feel free to check out some songs at his website and I think you will enjoy the deep rhythms. Powell tries to write everyday and these songs came out pretty clear with a strong power of intention in which everything sort of gelled. He is also working on decided which song to do a video of from the album. While he believes videos are important because you "got to have a lot of content (for website)" but there is an underlying coolness factor of putting a video together and getting that story done you want to tell. He recalls seeing a recent video of a band doing a nice jam of an Hall & Oates cover and that type of stuff is just fun to find and makes a band stand out in today's market.
Leroy is looking forward to getting back to
Detroit which he describes as "gritty as fuck, very raw"
. He sees Detroit as a city in pain because of the economy, esp with the auto industry, and sees music as a way to lift people up. We have a lot "of great blues out of suffering and that is what people need" to help them get through it. If you are looking for something to make you forget the hardships of life, this is a concert that should knock your socks off so get up to Pine Knob and get ready to kick back and relax to a night of hard hitting country rock from Leroy, Gretchen and ZZ Top.
If you are looking for other shows besides Leroy Powell to check out, here are a few more suggestions:
Wednesday (6/27)
– Leroy Powell opens for Gretchen Wilson and ZZ Top @ Pine Knob, Scissor Sisters @ Royal Oak Music Theatre
Thursday (6/28)
– Steve Martin & Steep Canyon Rangers @ Sound Board at Motorcity Casino, Sonic Lunch featuring Jill Jack @ Liberty Plaza (Ann Arbor), Styx w/REO Speedwagon and Ted Nugent @ Pine Knob
Friday (6/29)
– Buddy Guy & Jonny Lang @ Meadowbrook Theatre, Ragbirds @ St Andrews Hall, Buckcherry w/60 Second Crush and School Of Rock @ Stars & Stripes Festival (Mt Clemens), SRC @ Magic Bag
Saturday (6/30)
– Tower Of Power & Average White Band @ Detroit Opera House, Rhythm Corps and Eddie Money w/ the Muggs and Amy Gore @ Stars & Stripes Festival (Mt Clemens), Beach Boys @ Pine Knob
Sunday (7/1)
– Sarah McLachlan @ Meadowbrook Theartre, Dirty Americans & Annabel Road @ Stars & Stripes Festival (Mt Clemens)
Monday (7/2)
– Victor Wooten @ the Ark
FYI – The old Rothbury Festival is now called the
Electric Forest
and runs from June 28th-July 1st and features a very electronic and jam music oriented line up. Artists performing include the String Cheese Incident, Santigold, Richie Hawtin, Thievery Corporation, STS9 and Balkan Beat Box. You can get more info of the complete line-up at http://www.electricforestfestival.com/.
It is also about time I started posting some pictures from the
Sound Of Music Festival
. I have a ton of pictures to go through but briefly edited the few pics I had of Canadian country singer
Sarah Slean
. I had to rush over from the main stage to catch her before I had to get on the road home. Slean is a clean cut artist whose strong, clear voice sings a pop influenced country accompanied with her powerful piano stylings. I just wish I had more photos so enjoy these.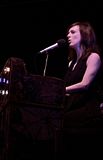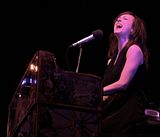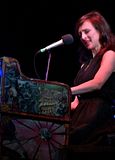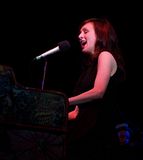 Also wanted to thank the guys and gals of the
Patron Tequila
tent for suppling drinks for the media and bands. The had some pretty good margaritas which tasted good, esp on the night after the Radiohead stage collapse, and I will not tell you how many I had.