Wild At Heart
Been a pretty cool week! I got to see the a pair of good shows. Started off with the band
Renaissance
which was performing their two popular albums "Scheherazade and Other Stories" and "Turn Of the Cards". Annie Haslam has only lost a bit off her voice but she was still amazing. The only other long time member was Michael Dunford. The band itself had some decent popularity in the 70's but is mostly forgotten expect by a few classic rock fans.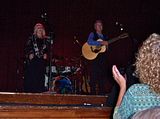 And here is there newest song
I then won a pair of tickets to go see the Dropkick Murphys. While a good live band, I didn't really care to see them again but they had
Stiff Little Fingers
opening who were on my list of alternative bands to see so I relented. They also had the Mahones who kicked ass.
Speaking of my list, you know I usually only recommend shows where I have personally have seen the performers but every once in a while a show comes along I have to promote even though I haven't had the privilege of seeing the group. In this case, on Wednesday, the
MOCAD is bring in the punk band the Raincoats for one of their only 10 US dates
. If I didn't have to do things like go to work, I would seriously consider driving back to Detroit to catch this performance so if you live in Detroit, you have no excuse not to go to this show. And let me know how it was.
Here are some other concerts I can recommend (and yes the Hanson recommendation is real):
Tuesday (9/20)
– Xiu Xiu @ Pike Room
Wednesday (9/21)
– Eileen Jewell @ the Ark, Gordon Lightfoot @ Michigan Theatre, Chic Gamine opens fro Marc Broussard @ eagle Theatre, Nekromantix @ Smalls
Friday (9/23)
- Mavis Staples @ the Ark, Motion City Soundtrack @ St Andrews Hall
Saturday (9/24)
- Motion City Soundtrack @ St Andrews Hall (2nd night), School Of Rock @ Emerald Theatre, Marion Meadows @ Detroit Opera House
Sunday (9/25)
– Moody Blues @ Caesar's Windsor
Monday (9/26)
– Mayer Hawthorne opens for Chromeo @ Majestic Theatre, English Beat @ Magic Bag, Hanson @ Crofoot, Mute Math @ Blind Pig
Movie fans can also mark there calendars for an upcoming mall stop by the ever lovable Puss In Boots promoting his upcoming animated extravaganza.
Puss In Boots
(yes the one from the Shrek movies) will be meeting and greeting fans at Oakland Mall on Wednesday, September 28th from 4-6PM. There will be free giveaways, face painting and balloon art and attendees are encouraged to bring their camera because Puss In Boots will be available for photos with fans. This
event is free
so there is no reason not to go down and enjoy the fun.
Have a great weekend and I'll see you next week. I am going down to Meadville, PA to visit relatives so my blog next week might be a day late but I'll work hard to prevent that.