Wild At Heart
I just had a great weekend attending the
LPGA this weekend in Rochester
. My uncle works the scorers table and was able to hook me up. Despite some rain and hail, the tournament was enjoyable. Between the free stuff at the Wegman's tent (basically, think Kroger's) and the nice weather, it was a great experience. The pictures below were taken during the practice rounds on Tuesday because no cameras are allowed during the actual tournament. There were a few golfers I was looking for but unable to track down that day but it was a nice day to leisurely walk the course. I did get the opportunity to meet some of the golfers, including last year's winner Yani Tseng (finished T59) and 2009 winner Nordqvist (finished T58). I was most impressed with the lovely Grace Park who was ending her career with this tournament since she has had many injuries in her career which make it difficult for her to compete at the level needed. She got a big standing ovation at the end despite finishing tied for 71. I also enjoyed meeting Cheyenne Woods (the niece of Tiger) who just missed the final cut. I followed her through a few holes and she was looking good but dropped a couple of strokes before reaching the last hole. She is very cute and really nice to all the fans.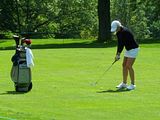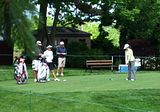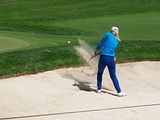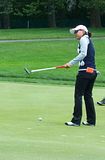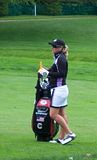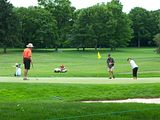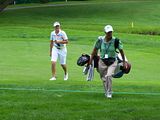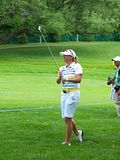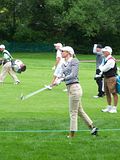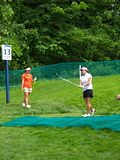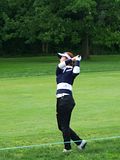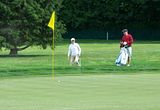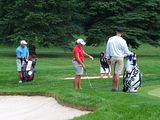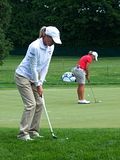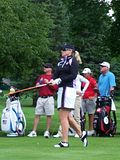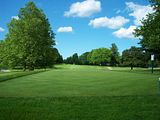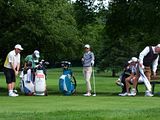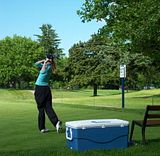 With 6 holes to go, 8 golfers were within striking range of winning until the fateful 17th hole finally decided the tournament when leader Gerina Piller double bogeyed to go -3 and
eventual winner Shanshan Feng birdied to go -6 and put her in a commanding lead
. With all the up and down play, four golfers placed at -4 as Mike Miyazato, Stacy Lewis, Suzann Petterson and Eun-Hun Ji all played some fascinating golf. With 6 holes to go around 12 different golfers legitimately had a chance to win compared to last year when Tseng had it wrapped up early with a commanding lead. Hope you enjoyed the pics and sorry I don't have all their names. I realized as I was editing that they had their names on their bags so I placed as many as I could. BTW, Feng is also the
first female golfer from mainland China to win a major golf tournament
so that puts a nice footnote on it.
I also enjoyed the RIT technology tent where I experience some 3D technology used in studying Mars' surface, had a picture of my eye taken by a special camera and learned about go-kart design as well as tried some new handwriting apps. I also got some pictures taken. Look. I'm on the cover!!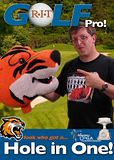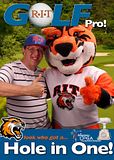 I am looking forward to this weekend. Starting this Thursday is the
Burlington Sound Of Music Festival
. I am heading up Friday night to cover the event and will try to bring you some pictures from the festival which will be sporting
headliners Basia Bulat and Big Sugar
on Friday night when I'll be up there (last year I went up and covered Men Without Hats and Devo to name a couple). The festival is right on the water about 60 miles from Toronto (of which I'll be heading to on Friday to see Radiohead). It is considered the biggest free music festival in Canada and is nicely set on the banks of Lake Ontario. It is very similar to our Concert of Colors with the diversity of musical groups ranging from jazz to pop and folk to rock. It also has lots of food, carnival rides and activities for the kids making it a nice family event.
The festival will also feature artists like Carly Rae Jespen, Wintersleep, Sarah Slean and Mother Mother over its 4 days this June 14th-17th. They have water refilling stations and a convenient shuttle service if needed. If you are looking for a place to go this weekend and have a relaxing fun time, this Music Festival cannot be beat. There are also some great restaurants nearby. I hope to put out a few pictures Friday night before I go to bed. I do have to wake up early to go swimming before checkout and then I have that Radiohead concert around the corner. To check out information about the festival, go to
http://www.soundofmusic.on.ca/
and learn more.
I can't wait for this weekend in music but here are a few shows for you to check out:
Wednesday (6/13)
– Ohio Players and Con Funk Shun @ Chene Park
Thursday (6/14)
– Stephen Kellogg and the Sixers @ The Ark, "Sonic Lunch" w/ Dale Earnhardt Jr Jr @ Liberty Plaza (Ann Arbor)
Friday (6/15)
– Laith Al-Saadi @ Callahans, Neil Sedaka @ Orchestra Hall
Saturday (6/16)
–Neil Sedaka @ Orchestra Hall
Sunday (6/17)
– Foster The People and Tokyo Police Club @ Fillmore Theatre, Neil Sedaka @ Orchestra Hall
Monday (6/18)
– Of Montreal @ Crofoot
On a sadder side was the passing of two people I will miss. First was the
suicide of singer Bob Welch
who has solo success with the hits "Sentimental Lady" and "Precious Love" but I remember as the lead singer for one of my favorite bands, Fleetwood Mac. He was the transitional singer when they shed their blues root from the late 60's and before Buckingham and Nicks joined. He was the main singer on 5 albums from '71-'74 including my personal Mac favorite "Bare Trees" and the great "Mystery To Me". This album is mostly forgotten by most fans but without these albums one can argue they would never have put out "Rumours" and have become the super band they ended up as. It is a
shame they snubbed Welch when Fleetwood Mac got inducted into the Hall Of Fame
but true Mac fans remember the contribution he made.
The other sad note was the passing of
Ray Bradbury
, one of the nicest guys I have ever met. I saw him give a talk when I was still living in Toledo and was very impressed by his courtesy and the manner with which he treated his fans. He is the first serious writer I got into as a kid and "Fahrenheit 451" was my favorite book and "There Will Come Soft Rains" my favorite short story. "Rains" is the famous story of the robotic house that carries on day-to-day functions despite the fact that all humans were killed in nuclear war. This story came out 5 years after we dropped the bomb and had a real moral significance for the national psyche. That is what I think really makes him stand out was his ability to tap into our hopes and fears, as well as a good sense of our nostalgia. He also worked with people to get his work out there whether helping give advice for movies based on his works, doing story intros for the great "Ray Bradbury Theatre" TV series or working with EC Comics back in the day to make sure their comic book adaptations of his work were properly credited and met a certain standard. At the age of 91, he lived a full and production life and I am glad I had the chance to bask in his glory at least once. I also
recommend the short story compilation "Dark Carnival" (1947)
which was put out by Arkham Press (the same company that published Lovecraft) though it is very hard to find. I had to read it at the Pop Culture Library at Bowling Green State University which has a complete Bradbury collection. RIP! Check out this animated version of "There Will Come Soft Rains" from Russian director NazimTulyakhodzayev in 1987.