I had the pleasure of seeing Joan As Police Woman in a small club in downtown Buffalo. The club was in the basement of a church which reminded my of Clutch Cargos and St Andrews. The crowd was small as it seems the people in Buffalo were more into watching the Sabres play than going to a show. There was no opening band because they couldn't find one that didn't want to watch the game (which Buffalo won BTW). When brought up, she admitted she had no idea even what sport the fans were talking about, though one fan did have updates for the crowd. The set consisted of a lot of new material with Joan playing both the guitar and keyboards (and sadly no violin which she says she might if she tours with a bigger band someday).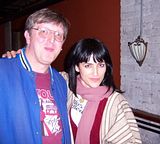 1) You played some mean violin with the Dambuilders like on "Teenage Loser Anthem", etc so can we expect to hear some violin on your new album or maybe future projects?
There is some violin on this record but not a whole lot. I use strings only when the song needs strings and i wasn't feeling all that much of it on this record.
But I use the violin all the time. Being able to play is a delight for me... the years of practicing paid off! I just recorded a talk talk cover and the multi-tracked strings I did pretty much made the song for me. I will always play the violin because I can!

2) After they disbanded, you had a very interesting musical journey where you played with Antony and the Johnsons, Black Beetle and the great Rufus Wainwright. How did performing with these artists inspire you and influence your solo career?
Black Beetle was a band that was formed with 2 of the remaining members of Jeff Buckley's band, Michael Tighe and Parker Kindred. It was an attempt to stay alive after Jeff's death. We recorded a record and then promptly broke up. It was somewhat of an experiment. This was the first time I was singing and playing guitar. It was alternately harrowing and joyful. I began playing with Antony in the midst of the Black Beetle. His voice alone did a lot to heal my soul. His band was one that was entirely nurturing and Antony, himself, was a great inspiration to go out on my own. Black Beetle had broken up and I had begun to play out solo and had made an EP. It was then that Rufus asked me to tour with him and to open the shows. Because I was not only playing my own material, I was doing it solo and for Rufus' crowd, so I felt that I really had to get my act together. I learned a lot from his crowd- what worked and what didn't. I began recording my first full-length release, Real Life, on the time off from touring with Rufus. It was released in june of 2006 and I have been exclusively making my own music and touring with it since. I am forever grateful for all the experiences I have been able to have with every musician I have played with.
3) How have you grown as a songwriter/musician since your debut album "Real Life" (which received a lot of great acclaim) and how has that affected your work on the new album?
Well hopefully I am getting better! I certainly work at it. I am constantly trying to devise the most direct way to get the feeling i am looking for. This is why songs are successful in my opinion. and I don't mean lucrative, i mean they work as a song. Before I made this record, I made an album of covers. This helped me engender a more pop sensibility into this most current record. I like creating songs that make people move. I feel like I am doing my job when people move (or in the case of a ballad, cry).
4) I have only heard the song "The Magic" on the new album which I thought had a hint of some 70's R&B flair (maybe a hint of Stevie Wonder or the like) in the background. Can you tell us a little bit about the song?
"the magic" is about getting out of my head and "doing" rather than "thinking"
It's a plea for the magic formula to allow me to get out of my obsessive mind and live, rather than thinking about living. This is not "hinting" at 70's r&b, this IS my version of it. It's the music I always come back to and consistently love.
5) The new album is called "The Deep Field". How did you come up with the title and what does it reflect about the songs on the album?
It is named after a part of the sky. I saw an image of this section of space as a series of square photographs that were taped together to form the larger region. It looks like a scatter of golden shapes against the black of the sky. it is truly astounding to think that this is really what's happening above us.
That scientists had so poetically named it "the deep field" when they could have named it RSDIE29859043984 made me feel very romantically towards it.
The fact that we, humans, continue to search for the answers whether it be in the sky or in our minds with no reason to believe we'll ever get any concrete answers is a beautiful thing. we can't help but continually look into the deep field.

6) For those who have never been to a live Joan As Police Woman show, what can the fans expect when you appear in Detroit?
Power trio comprised of The Professor, The Hurricane and The Police Woman.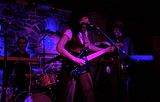 7) When not writing or performing music, what gets your blood pumping and your juices flowing?
Making eye contact, racing around on my old broken-down english 3-speed in brooklyn, making whoopee, listening to old gospel vocal groups, swimming in the ocean
8) Is there anything you would like to relate to your Detroit fans?
Rock city! Here we come!!!!!
JOAN PLAYS TOMORROW AT THE CROFOOT PIKE ROOM
MCB IS THERE