Wild At Heart
What a busy week! I never thought I would catch up these photos from
Burlington Sound Of Music Festival
but I have some free time this week and I will try to get the majority of the pics posted this week. We just have our jazz fest here in Rochester (and I'll have a few pictures) of which I went 7 of 9 days and also fit in a garage sale, a dentist appt and a couple of movies. I also bookended the festival with a Rusted Root (have pics) and a Melvins (don't have pics) show.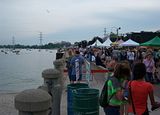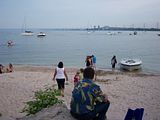 So today's theme for my pictures are local bands at the Sound Of Music Festival. The festival is mostly Canadian bands anyway but these are the up and comers that hope to get the big record deals and the headlining tours someday. Here are four bands which appeared at the festival and I'll start with my favorite.
The Bends
hail from St Catherines and have been playing for a few years as they get ready to go into 12th grade. They have had a little bit of recognition locally as a solid popish band that really reminds me of the early 60's British invasion bands. Of all the local bands I caught, they seem to be the band I have the highest expectations for so check them out if you cross the border.
http://www.the-bends.com/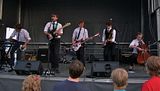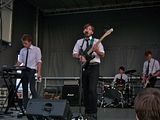 The
Loaded Dice
were my second favorite local band of the evening and probably have the best chance of making it to the big time. While I enjoy the Bends sound, the Loaded Dice are Scottish flavored punk much like the Dropkick Murphys and with the popularity of the Vans Warped Tour, they have a bigger potential base into which to tap into that is really excited about their high energy music. They had a decent mosh pit going by the lake and had a nice clean sound that sound appeal to fans of the punk rock scene.
http://www.facebook.com/pages/Loaded-Dice-Canada/119690459445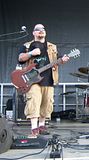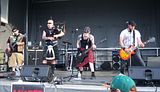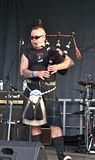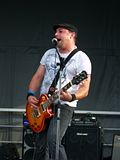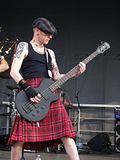 I just barely caught
Crooked Hill
as they were ending their set (the problem with 4 stages sometimes) and they are a five piece band that blends rock and pop with their energetic lead singer. They didn't overly impress me but I did enjoy listening to them. They are a band I would like to hear again to form an honest opinion. You can make your own judgement by checking for their new album "Up, Up Away" on iTunes.
http://crookedhillband.com/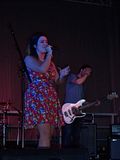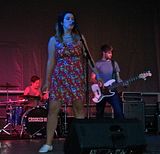 I did catch a good portion of
Thegoodfridays
who hail from the Burlington/Hamilton area. They had a enthusiastic crowd watching their set which one would expect from a local energetic band. I just wasn't into their set though I know the crowd might tell me differently. There was just something about them I can't put my finger on that just kept me from getting too involved with their set. Maybe it was their attitude reminding me of this annoying guy from work or maybe I was still thinking ahead to the Radiohead show. Whatever it was, I just wasn't into them this night but feel free to look into them yourself.
http://thegoodfridays.bandcamp.com/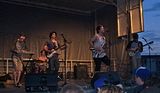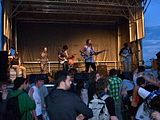 I hope you have a good weekend and here are a few shows you might find of interest:
Tuesday (7/03)
– Neil Diamond @ Pine Knob
Wednesday (7/04)
– City and Colour opens for Death Cab For Cutie @ Meadowbrook Theatre, Capitol Steps @ Power Center (Ann Arbor)
Thursday (7/05)
– Tragically Hip @ Caesar's Windsor, Sonic Lunch featuring Frontier Ruckus & Chris Bathgate @ Liberty Plaza (Ann Arbor), Aerosmith and Cheap Trick @ Palace of Auburn Hills
Friday (7/06)
– Bare Naked Ladies @ Toledo Zoo Ampitheatre, Vans Warped Tour (featuring Anti-Flag, Breathe Carolina, Streetlight Manifesto, The Used and many more) @ Palace Of Auburn Hills, Stevie Nicks @ Fox Theatre, .38 Special @ Lake St Clair Metropark
Saturday (7/07)
– Janiva Magness @ the Ark, Def Leppard and Lita Ford @ Pine Knob, The Outlaws and Lorrie Morgan @ Lake St Clair Metropark, Everest @ Pike Room, 60 Second Crush @ Perfect Pitcher Sports Club (Taylor)
Monday (7/09)
– Reel Big Fish @ St Andrews Hall
I am hoping to have a few more sets of photos in the next week or so plus an interview with the band Everest so stay tuned.