Wild At Heart
I have just been having a really busy summer and I am way behind on sharing concert pics with everyone. This past weekend I spent 2 days at the Independent Music Chanel Festival here in Rochester where bands from all over the area came to perform for the masses as well as being part of a live broadcast celebrating indie music. I did a couple of interviews which I will be working on for the next few weeks so keep an eye out for them.
I also went to see a production of Karel Capek's "R.U.R." which was written in 1920 and represents one of the first usages of artificial human-like beings in art and literature though they are manufactured by biotechnology and not mechanics. Robots, with a 20 year life span, are made to be our servants and allow for paradise on Earth but they revolt and kill all of humanity only to discover the process to create more of their kind dies with us thus bringing an eventual end to themselves as well. Great stuff!
I got about 4 concerts this week also so I'll try to keep up on everything. In the meantime, here is a rundown of the
women of the Burlington Sound Of Music Festival
. I already gave a few pics of country artist Sara Slean since I thought that was proper to accompany the Leroy Powell interview a couple of weeks ago. Here are the rest of the ladies I watched perform.
Ambre McLean
is from Guelph, ON and has been making a name for herself by winning a few awards in the local area for her singing and songwriting. She is probably most associated with the folk or singer/songwriter genres though like most artists today float between genres from blues to pop. She was born of musical parents and had early training in piano and vocals which she utilizes well. You can check out more about Amber at her website
http://ambremclean.com/site/
.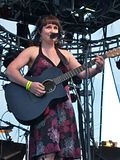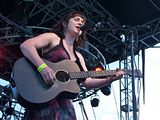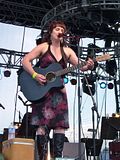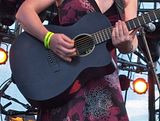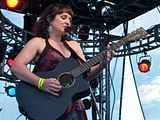 Julie Doiron
started out playing guitar and bass in the band Eric's Trip at the insistence of her boyfriend, Rick White, until they broke up in 1996. She has since put out a number of solo works as well as recording with the Tragically Hip and a Juno Award winning album with the Wooden Stars. Of the female singers, she was definitely the one who rocked the hardest with her wild hair flowing everywhere. She plays a mean guitar and is worth searching out when she comes around. To learn more about Julie, check out her website
http://juliedoiron.com/
.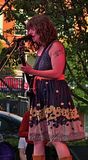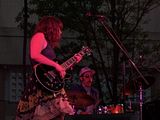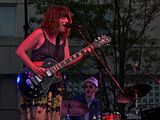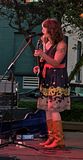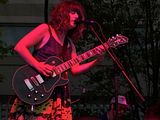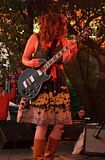 Basia Bulat
was my favorite performer of the festival but unfortunately I had to rush back from the main stage where Big Sugar had been playing so I had too short of a time to make up my pictures and as a result did not get any really good pictures of her to my dismay. Her mother was a music teacher who taught her piano and guitar, though she is best known for her autoharp. She actually got her start opening for Julie Doiron. She has a wonderful versatility in her musical ability; it is her graceful voice that really attracted me to her. She just has one of those voices that can lift you up and take you on a journey through her songs as honored by getting a Juno for Best New Artist (BTW, the Juno is the US equivalent to the Grammy). I hope you caught her when she came through Detroit but I feel she will be back again in the near future. Check her out at
http://basiabulat.com/
.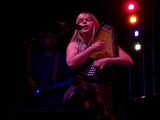 Darrelle London
was my second favorite of the female singers. Besides just being adorable in the black dress, she also has a great voice which was classically trained (along with her piano playing). She has had a touch of success in the states with a song on the ' 90210' soundtrack and a spot on the last Lilith fair. Her songs are playful and her voice is just infectious as she belts out some well crafted tunes. I for one am glad she decided on music instead of law school to follow. Check out Darrelle at
http://www.darrellelondon.com/
.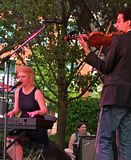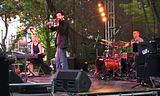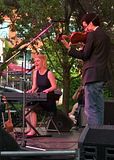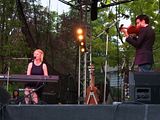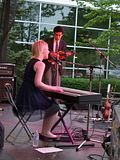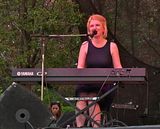 Lori Nuic
is another artist I had to rush around to catch thus resulting in some very average pics so they don't do her justice. Lori has a real soulful voice which has gained her a nice following as she has been touring the world and opening for some big names like Simply Red and Raul Midon. She definitely has a strong voice which she uses to good advantage with her style of soul. Check her out at
http://lorinuic.com/
.
I hope you enjoy these photos and here are a few things to enjoy this week, esp a lot of free concerts for the rock fans and my favorite area festival, The Concert Of Colors. Choose wisely and enjoy.
My #1 choice however would be the riotous Reverend Peyton's Big Damn Band at the Pig And Whiskey Festival
. They really brought it when they played our Lilac Festival and I think everyone would enjoy. I am also a big fan of Foxy Shazam playing just south (Toledo) and north (Flint) of us this weekend. Good day for a road trip?
Tuesday (7/10)
– Dave Matthews Band w/Brandi Carlile @ Pine Knob, Foxy Shazam @ Mickey Finns (Toledo)
Wednesday (7/11)
– Yonder Mountain String Bang @ the Ark, Foxy Shazam @ Machine Shop (Flint), Alexander O'Neal @ Chene Park
Thursday (7/12)
– Foghat w/Fabulous Thunderbirds and Canned Heat @ Pine Knob, Handgrenades @ Garden Bowl
Friday (7/13)
– Edgar Winter & Howling Diablos @ Windsor Blues Festival, Tedeschi Trucks Band @ Hill Auditorium (Ann Arbor), Sponge & John Waite @ Rockin' On The Riverfront (Ren Center), Maze & Kenny "Babyface" Edmonds @ Pine Knob, Trenton's Mid-Summer Festival featuring Mitch Ryder & Detroit Wheels @ West Jefferson In The Riverfront Business District, Ty Stone and Fur @ Pig And Whiskey Festival (Ferndale)
Saturday (7/14)
– Reverend Peyton's Big Damn Band w/Dutch Pink & Frontier Ruckus @ Pig And Whiskey Festival (Ferndale), Airbourne Toxic Event w/Minus The Bear @ The Fillmore, Concert of Colors (w/Don Was All-Star Review, Harper and Tito Puente Jr Orchestra) @ Max M Fisher, Alto Reed's Motor City Allstars w/Mark Farner & Big Brother and Holding Company @ Windsor Blues Festival, Night Ranger @ Uncle Sam Jam (Civic Center park in Woodhaven), Whitey Morgan & 78's @ Magic Bag
Sunday (7/15)
– Concert of Colors (w/George Clinton & Parliament Funkadelic and Detroit Symphony Orchestra) @ Max M Fisher, Santana @ Pine Knob, Hard Lessons & Child Bite@ Pig And Whiskey Festival (Ferndale)