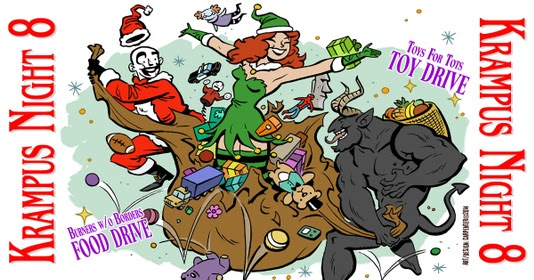 Oh you better watch out…'cus he's coming back to town! On Friday December 7th 2018, Krampus is at it again with the 8th annual festive event:
KRAMPUS NIGHT - A HOLIDAY-ISH CHARITY EXTRAVAGANZA
Who is Krampus? Only the swellest devil to accompany ole' St Nick on his rounds during the holidays. Unlike Santa, he joyfully punishes the naughty by swatting them with switches…but who doesn't?
However, on this night he's a devil with a cause helping those in need with a…
Bring in some new toys or cans of food and get in on the cheap (and some good feels)! All toy donations are taken directly to a
Toys For Tots
center to benefit less fortunate children during the holidays and all canned donations go to
Burners Without Borders Detroit
to help feed the homeless (
click here for details
).
But he's not stopping there with his benevolent malevolence! He's also helping to support local artists with a…
Buy some swell affordable art gifts for the naughty on your list (or for your naughty self)! You'll find everything from small unique stocking stuffers to large original art pieces.
And to make this a Black Friday you won't regret, there's also a…
Generously donated by various artists of the
DAMNED Exhibition
and the
Krampus Bazaar,
you can bid to take home some amazing fine art while helping the homeless! 100% of all auction funds go directly to
Burners Without Borders Detroit
to help purchase much needed supplies to create survival backpacks for the homeless (
click here for details
).
But wait! There's also the 7th annual…
It's a crap-tastic "exhibition" of holiday-ish ornaments and decorations created by the all-volunteer
Krampus Redecoration Anticrafting Party (KRAP)
! These tiny monstrosities re-imagined from thrift/dollar store junk will be haphazardly spread out all over the venue. And WTH also includes the
Bad Gingerbread House Competition
!
And for your "entertainment", we once again bring you the hilariously disastrous…
Come experience a wild night of amazingly bad lip syncing, barely rehearsed skits and impromptu shenanigans loosely based on your favorite holiday television and film classics! Featuring
Satori Circus
,
Lushes LaMoan
,
Magenta Demure
,
Bootsie La Fontaine
,
Scott Dambacher
and lounge singer extraordinaire
Konrad Lee
!
And if that wasn't enough, there's also…
And THE BIG MAN HIMSELF (KRAMPUS) will host a charity donation photo booth for photographic evidence and fun!
+ Schedule +
07p – The Naughty List Bazaar opens
08p – Krampus arrives for a charity photobooth & swattings
09p – Wreck The Halls short film festival
10p – Christmahanakwanza Variety Show Spectacular Pt1
11p – Audience participation Fugly Holiday Sweater Contest
followed by Christmahanakwanza Variety Show Spectacular Pt2
12a – Gingerbread House Competition winner selection
followed by Last Call (& bidding fight!) for the Not-So-Silent Auction
02a – GET OUT AND GO SOMEPLACE ELSE!!!
+ Admission +
$15 with New Unwrapped Toy and/or 3 Canned Food Donation*
$20 for rotten stinkin' Scrooges without either
*non-Scrooges also receive a coupon worth $5 off their purchase of $25 or more in the Naughty List Bazaar!
There is no dress code but creative/naughty/festive holiday costuming welcome!
Krampus Night 8 – A Not-So-Holiday Charity Benefit Extravaganza
Friday December 7th 2018 – 7pm until 2am – Strictly 18+
Tangent Gallery/Hastings, 715 E Milwaukee St, Detroit, MI
Merry Krampus and Stay Naughty!!!
| | |
| --- | --- |
| Holiday demon Krampus descends on Detroit - Donna Terek, The Detroit News | |