Hope you all had great a great Father's Day. I know I did as I was up in Burlington for the fourth day of their Sounds Of Music Festival which was amazing. I got up early (6AM) that morning so I could get up there early, hopefully avoiding issues at the border, finding a good parking space and scoping out the layout of the area. I hit the border around 8:15 and got across quickly. I enjoyed my breakfast of raspberries, potato salad, shrimp salad and brownies at the border and made in to Burlington a little after 9AM. I found some free parking right across from the 2nd (of 5 stages) and got to walk the waterfront for a bit to see what was about. Here are some pictures from the shoreline.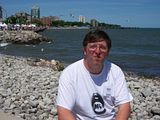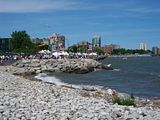 I started with an a local restaurant that had a wading pool outside as well as those dancing fountains which were overrun by kids later in the day. I then walked along the water as some people were milling around and made my search for the media tent. The nearby sub shop had a keyboardist outside entertaining the customers as I continued my search. When I finally found the tent, it was vacant so I walked up Bryant street to find the last stage and to see what restaurants and shops were around. A few antique shops were open and I browsed them briefly before heading back.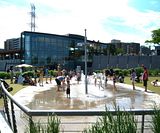 One lone girl was at the tent when I got back and apparently the main boss wasn't showing up for noon so we talked a bit as more people started showing up. Luke Doucet played the day before and apparently Sarah McLaughlin showed up and performed 3 songs with him. It was a totally unannounced moment that even the staff had no idea about until she actually showed up. I was told later by one of the emcees that her parents live in Burlington so it shouldn't be much of a surprise. I wish I had been there that day. Oh well.
Another rep showed up and took me around the stages at helped me set up interviews with the Salads and later Peter Katz and Chic Gamine (interviews to be posted later in the week). She was a school teacher volunteering for the festival and impressed be my showing how organized the stages were in regards to getting quick info and accommodating press. A lot of times we are left to our own devices but their staff was very organized, friendly (they are Canadian after all) and willing to help. I spent the rest of the day walking between stages so I didn't take in the rides or booths (of which there were plenty). Thankfully, there was a lot of great music and here are a few shots of some local bands starting with Dawn & Marra. They are local girls from Dundas that recently had their debut album "Never Ask Me Why" put out. The band had some nice vocals and I wish I could have seen more but I needed to get to Devo.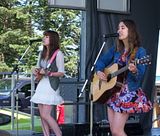 The classically trained Jacquie and Liam who met at Ottawa University got together to put together a high-energy pop band called the Balconies.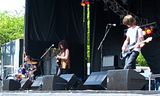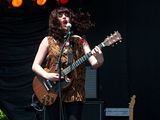 I had some annoying lighting on one stage (damn those magenta lights) which was my favorite to hang out at (thanks for the fruit and wine). The band Le Vent Du Nord has won 2 Juno awards for there folkish music. They have a nice sound with hints of world music that is captivating. I wish the pictures were better.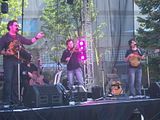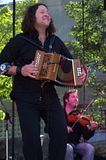 After a full day of great music (pictures of Devo, Men Without Hats, Chic Gamie, Creepshow, the Salads and Peter Katz to follow throughout the week), I headed home after grabbing a burger to go at Sewards. The restaurant is located by the water fountains and specializes in wild game items. I was captivated by the Elk Burger which was complimented by greens, mushrooms and bacon. I must admit, it was one of the best burgers I have eaten in the last 5 years. Highly recommended if you hit the Burlington area. It is expensive, but it is worth it.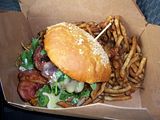 And one last shot of the crowds and ferris wheel.
After all that talk about the festival, here are some cool bands coming to town this week:


Tuesday (6/21) – Trombone Shorty @ Ann Arbor Summer Festival, the Sights @ Majestic Café (free show)


Wednesday (6/22) - Earth, Wind & Fire w/Stewart Francke @ Pine Knob


Thursday (6/23) – The Muggs, 60 Second Crush, Twistin' Tarantulas, etc @ River Days (Detroit Waterfront), the Monkees @ Fox Theatre


Friday (6/24) – Stewart Francke, Jessica Hernandez, War, etc @ River Days (Detroit Waterfront), Bedouin Soundclash w/Bear Lake @ the Shelter, blues great Buddy Guy and Jonny Lang @ Meadowbrook Theatre, Matt & Kim w/Thermals @ Majestic, Bricktown Station (CD release party) @ Pike Room, Mayer Hawthorne @ Radio Bar (Motorcity Casino), Marshal Tucker Band @ Smackwater Block (Lexington), Red w/Taddy Porter @ Machine Shop


Saturday (6/25) – Howling Diablos, Kimmie Horne, Chaka Khan etc @ River Days (Detroit Waterfront), Dale Earnhardt Jr Jr and Prussia @ St Andrews Hall, Wayfarer Roots and Bluegrass Festival feat Ragbirds, Juliets, Chris Bathgate, Frontier Ruckus and more @ Magic Stick, SRC w/Outrageous Cherry @ Magic Bag


Sunday (6/26) – Dutch Pink, Laith al Saadi, Jill Jack, Reefermen, Macy Gray, etc @ River Days (Detroit Waterfront), Jars of Clay open for Stephen Curtis Chapman @ Pine Knob


Monday (6/27) – Lettercamp opens for Stepdad @ Majestic Café
Also, Selena Gomez fans will be treated to a special visit on June 27th at Laurel Park Place as she is promoting her new movie "Monte Carlo". Don't know much about the event yet, but you can get more info at http://www.facebook.com/officialmontecarlomovie.
Have a good week and and keep an eye out for interviews and pictures from Burlington Sounds Of Music Festival, one of the best festivals I have had the privilege of going to. Wave Goodbye Devo!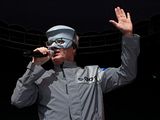 Thanks Devo!