Wild At Heart
Well, it is Friday and here is the last of this week's coverage of the
Burlington Sounds Of Music Festival
. The first band I talked to at the festival was the popular Canadian bands, "
the Salads
". This is the type of band, with their punkish jam band party sound (they look at themselves as a cross between Slayer, master Of Puppets and reggae), that my parents might not get, but can be infectious. The band is also very down to Earth and was one of the most inviting bands I have interviewed. Quite simply, the band seems more like the neighborhood band of misfits practicing in their garage on weekends that a band that has been on the national stage since 1993.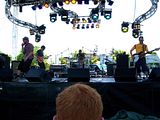 The interview started off with being offered a beer or something to drink, which is also cool when offered by a band in their tour bus. They had just finished sound check and lead singer Darren has taken some time away from his kid who was touring with him (going to hit the rides later) to talk with me. The general festival vibe of this event allows him to spend some quality time with his kid as well as promoting the band in front of an audience, many who might not be familiar with their music.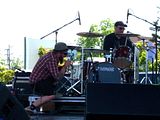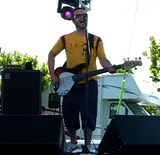 They have been touring the last 2 years promoting their last release, "The Big Picture", appearing on the Warped tour, along with various campus shows, clubs and festivals. The guys are currently working on a self-produced Album. They stated their last album was "very serious since we were going through a lot of issues with our
label and management" along with personal issues outside the band. This time around the band is
trying to capture a more party style with silly themes and more light-hearted "turbo charged"
and intense album. The idea was to have a fun tour where they would do house parties across the country but admitted the Foo Fighters already did that. I still think they should do it because they just have that vibe the Fighters don't have that would make that tour work.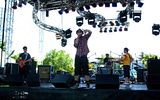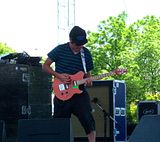 The band puts on a lively show that I hope my picture do justice and they admit to liking to plays in front of different audiences, which shows just how good one is at adapting to venues. Whether big or small, the band just seems to want to have fun. They are trying out some new songs while on tour and the audience seems to groove to the new songs. That seems to mean a lot though they admit they also enjoy seeing the young kids dancing to the music even though they probably do not understand the lyrical content.
We
should be seeing their new album soon
and it will have a few surprise guests including David Wilcox (Darren works part time at a Toronto Health Food store that David frequents) and hopefully I'll still be the first to report Brian Bryne (of I Mother Earth), who was recruited for his unique melodic and barfing noises (the band loves artists with distinct vocal talents). More info should be coming out on their website
www.thesalads.com
so check it out and follow the guys on twitter. Also feel free to hire them for your summer house parties.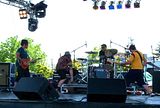 Until you get the opportunity to see them live, you just have to live with these pictures of their Burlington performance. Enjoy! This video "Get Loose" really does capture the fun of seeing them live.
The other band on this stage was the psycho rockabilly band from Toronto called
Creepshow
(the band is inspired by early b-movies and horror films). I was around for about six songs and they were blasting through their set. The next few months will take them through Germany and parts of Europe so check out
www.thecreepshow.org
for future dates. Enjoy the pictures!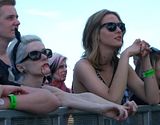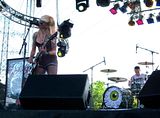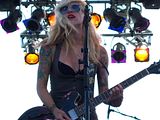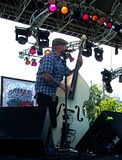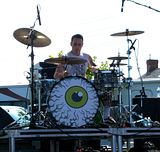 I love the drum kit which reminds me of the Residents and the picture below is kind of a Dark Angel (Magna version, not Alba) tribute.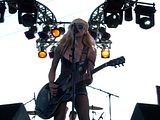 I hope to get to the Burlington Festival next year and I'm looking forward to the line ups. Right now I'm getting ready to head out to the LPGA here in Rochester, NY and see what other mischief I can get into. Have a good weekend and see you Monday!