Wild At Heart
I thought it was particularly interesting that shortly after the rapture was delayed, we have an
actual case of HIV being cured
. Timothy Ray Brown went through a hazardous bone marrow transplant which has left him with no trace of HIV in his system. So I guess that all those religious nuts claiming AIDS was a curse from God can wonder how we are still here and that God has allowed a cure for an incurable disease (supposedly a curse from God). Ain't life grand!! God Bless!!
I am a little bummed out by some summer shows that will miss my new little area of the world. Even though Cyndi Lauper is teaming up with Dr John for a mini-blues tour (road trip to Buffalo) and that Devo and Men Without Hats will be playing a free festival on Father's Day in Burlington, ON. However, harking back to me to my electric youth, teen rockers
Tiffany and Debbie Gibson are touring together
and just a bit too far for a road trip. The whole thing came about thanks to Mojo Nixon. OK, maybe that might be farfetched but he did write the song "Debbie Gibson Is Pregnant With My Two-Headed Step Child" (a classic) with the immortal line evoking Debbie and Tiffany wrestling in jello. And years later, Asylum releases "Mega Python vs Gatoroid" starring both Tiffany and Debbie Gibson rolling around in cake and a lake (alas no jello but maybe a sequel). Got to love that symmetry!! After this meeting of teen divas, someone got the idea they should tour together and I would love to see that show. It's be better with jello wrestling but I'll take what I can get. Come to upstate NY girls!! They will be in Chicago and Cleveland this summer.
Here are some shows that are happening in the area that you can enjoy:
Wednesday (6/8)
- Sam Roberts Band @ St Andrews Hall
Thursday (6/9)
- Daniel Lanois @ Magic Stick
Friday (6/10)
- George Clinton, Morris Day and the Time and MC Hammer @ Pine Knob, Ray Parker Jr @ Riverfront Festival Plaza (Windsor), Ohio Players @ MotorCity Sound Board
Saturday (6/11)
- Tinsley Ellis @ Callahans, Taylor Swift @ Ford Field, Taproot @ Ritz Carlton State Theatre
Sunday (6/12)
- Huey Lewis & the News @ Pine Knob
Daniel Lanois
should be a great show. I saw him a decade ago at Farm Aid in Columbus and he put on a great show. He plays a mean guitar along with drums and petal steel. He was nominated for a Grammy in 2005 for his instrumental album "Belladonna". He is better known as a promoter working with Brian Eno, Peter Gabriel, Willie Nelson and winning Grammys for albums with U2 (Joshua Tree, How To Dismantle An Atom Bomb), Emmylou Harris (Wrecking Ball) and Bob Dylan (Time Out Of Mind). This intimate venue experience should be a must for rock music fans.
I also had some bad pictures of
Hank & Cupcakes
who did rock out. Cupcake came out with a giant bunny head and quickly turned out a number of punchy new wave style hits. Hopefully I'll get another chance to check them out since I did like what I head.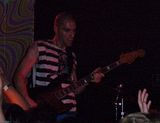 Also caught a nice guitar performance by
Pete Miserendino
who covers a wide range of guitar styles from different eras.
Have a great week.