Wild At Heart
How come every time I talk about
Devo
, I want to start talking like Bizarro? Maybe it's just because they are out of this world. Devo definitely ranks as one of the oddest Top 40 bands of all time. At Sounds Of Music, I was in the pit for 2 songs and listened to 2 others as I was heading over to get Creepshow. I had the pleasure of seeing Devo in Cleveland a couple of years ago in what was one of my favorite all time shows.
Devo and Cleveland go together like Kid Rock and Detroit
and seeing them in their home town is magical. I remember the tear-away outfits and hundreds of super balls rocking Nautica as the sun was setting. Pure magic as Modern English opened up the night. A couple years later, and here they are touring again and just as visually stunning as musically magical. One of the best bands to see live and here are some of my pictures of them at the
Burlington Sounds Of Music Festival
.
Am I not a man? I am Wild!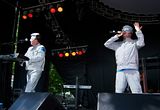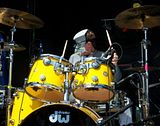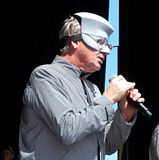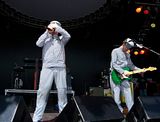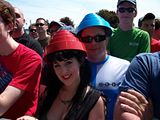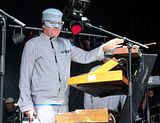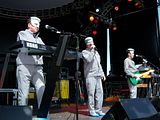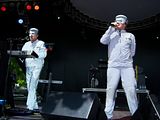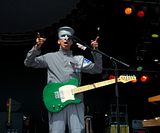 Hope you enjoyed these shots and tune in
tomorrow
for an interview with the
Salads
and pictures of
Creepshow
from the Burlington Sound Of Music Festival.