Wild At Heart
Welcome back to my continued coverage of the
Burlington Sound Of Music Festival
. I must admit I knew very little about the secondary acts appearing at the festival. All I was really focused on was Men Without Hats and Devo. That said, the quality of the bands was really great. Many of the bands on the bill are Canadian bands with a few Juno Award winners in the bunch like the 2009 best Roots & Traditional Album winner
Chic Gamine
.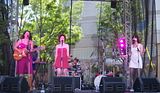 The band formed in 2007 though Andrina mentioned she knew singers Ariane and Annick for a good 10 years. They all fronted different bands that had a similar world influence and had run their courses before they got together. Having played together before, they were able to hit the ground running with the additions of Alexa (I guess the requirements for female membership is to have a first name that starts with "A") and drummer Sacha (the lone and lucky male member of the group). The band has a unique chemistry in regards that all five artists contribute equally to songwriting and vocal duties. Watching the girls prior to getting on stage and wandering the festival grounds pre-set, you see that at this stage of the game, the egos are in check which allows them to blend their songs and share vocal duties in a way that enhances their overall sound. The music is
very rhythmically driven as there voices blend beautifully with there sparse musical accompaniment
. Their first self-titled album has a richer world music feel with a mixture of four languages sung but they have moved to a more pop direction on their new album as they drop 2 languages and add more of a beat. They are also touring with Mark Brussard as an opener and than as back-up musicians which has been fun for the band as it introduces them to new rock N roll audience.
I really enjoyed the show, esp since readers here know I have a preference for female singers and having four to choose from is a real treat. Their vocals blend nicely with the accompaniment and work as a tight musical unit. They are not playing in the area for
awhile but you can look up concert dates and info at
www.chicgamine.com
so check it out. I'd like to thank Adrina and Sasha for taking the time to talk to me and I'm sorry about the issues with those damn purple lights. Loved the music on the stage and they had the best stage managers but ended up hating the lighting. Here are some pics from Chic Gamine. I hope I captured their beauty.
Earlier on this stage was indie folk singer
Peter Katz
(yes check out the purple lights on his shirt - damn stage lights) who is touring with his new album "First Is The Last To Know" which was supposed to be a simple acoustics album but got hijacked by the likes of Glen Hansard (The Swell Season), the Good Lovelies and Melissa McClelland (who can turn down these guys). Despite this wonderful guest stars, the album does a good job capturing the true essence of his live shows, esp the wonderful title track "First Of The Last To Know".
He started out touring with bands but learned of the practicality of touring solo. This way he could play whatever he wanted and not worry if the band knowing the song or not and he admits "when touring with the band,
I learned I connected best with the audience at those (solo) moments
". For someone who counts everyone from classic folksters Dylan and the new wave of folk, the Swell Season, as inspiration, he has learned the lessons of powerful, stripped down music can be powerful. His set found a nice connection with audience as he smiled and told stories such as the genesis of certain songs, such as "Oliver's Tune", a tribute to fiddler Oliver Schroer and the inspiration he found of hearing his last concert before he passed away. He is leaning towards more stripped down sound and is planning on his next album to be a personification of that and he is also planning a live CD in September. It is hard being a solo folk pop singer nowadays, but Peter Katz has enough talent and personality to have a chance of breaking through. He continues to play to his strengths of a touring artist, so look for him coming to a venue near your. For more info about Peter, check out his website at
www.peterkatz.com
where you can also find links to Twitter and Myspace.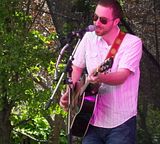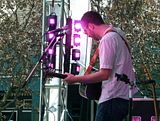 Look here for Devo pictures tomorrow!